HEXUS - COMPUTEX 2007 :: GeCube dual ATi Radeon HD 2600
Loading...
Been waiting a while?
Get Flash
to see this player.
GeCube's Jeff Foo shows us his new graphics marvel - ATi CrossFire on one card using two ATi Radeon HD 2600 chips.
Related Reading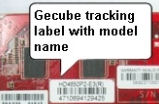 13
Counterfeit GECUBE HD4000 cards appear
GECUBE issues a statement acknowledging the problem and advising how to identify the genuine article.

2
GeCube HD2600XT X2 DDR2 1024MiB - GEMINI 3
What do you do when the GPU manufacturer on which you base your cards upon procrastinates in filling a huge gap in the line-up? We're talking about GeCube's plight with ...

11
GECUBE GEMINI 3 - The world 1st dual-GPU Radeon HD2600XT X2 DirectX® 10 graphics card with on-board 1Gbyte memory and Simultaneous Quad DVI display
GeCube launches the world's first dual-GPU Radeon HD 2600 XT graphics card. The GEMINI 3 adds up to 1GiB of onboard memory and quad-monitor support from a single PCB.