Software and Summary
Following in the footsteps of the K95 RGB Platinum, Stream Deck automatically recognises the six G-Keys, allowing users to drag-and-drop their choice of predefined shortcuts for popular services such as Mixer, Twitch and YouTube. Setup is straightforward, though do be aware that unlike the existing K95, the newer K100 RGB doesn't include interchangeable blue-tipped S-Keys to help differentiate gaming and streaming shortcuts.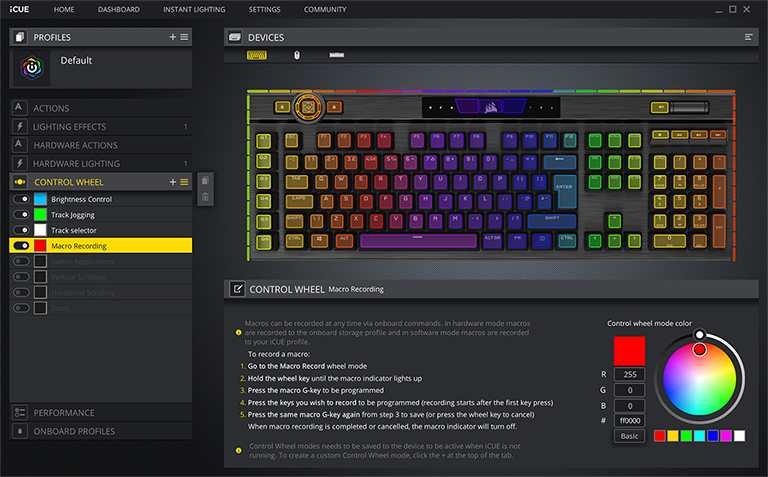 The bulk of customisation takes place in iCue, where Corsair has implemented better separation between software and hardware profiles. With the K100 RGB, hardware lighting and hardware actions now have their own dedicated tabs, making it easy to identify which customisations can be saved to onboard storage for use without iCue running.
When it comes to lighting, the 44-zone LightEdge, 8-zone wheel, sails logo, wheel key and keyswitches are all configurable. Up to 20 layers of predefined effects can be saved to hardware, and when you do return to iCue, hardware profiles can be copied back across for editing. You're unlikely to run out of space - there's enough onboard storage for 200 profiles - but do be aware that synchronised lighting effects with multiple components/peripherals are only available when iCue is actively running.
Summary
We've reached the stage where under-the-hood hardware upgrades on flagship peripherals are becoming increasingly difficult to quantify. What we can say is that the K100 RGB is Corsair's most capable keyboard to date, and it hasn't missed a step throughout our testing.
There's a lot to like, as is to be expected at £230, but not every feature will appeal to every user. I personally find it difficult to adapt to keyboards that install extra keys on the left side - there shouldn't be anything beyond Esc in my opinion - and as we approach the tail end of 2020, USB 2.0 passthrough feels well behind the times.
A few limitations remain, but there's plenty on offer for enthusiast gamers wanting to tick most boxes on the spec sheet. OPX optical-mechanical keyswitches feel suitably responsive while practically eliminating any unwanted debounce, the iCue Control Wheel is a welcome addition, and Corsair's software configuration and Stream Deck integration leaves ample scope for further customisation.
Bottom line: the K100 RGB looks the part and has enough going on to be considered a noteworthy upgrade for deep-pocketed enthusiasts.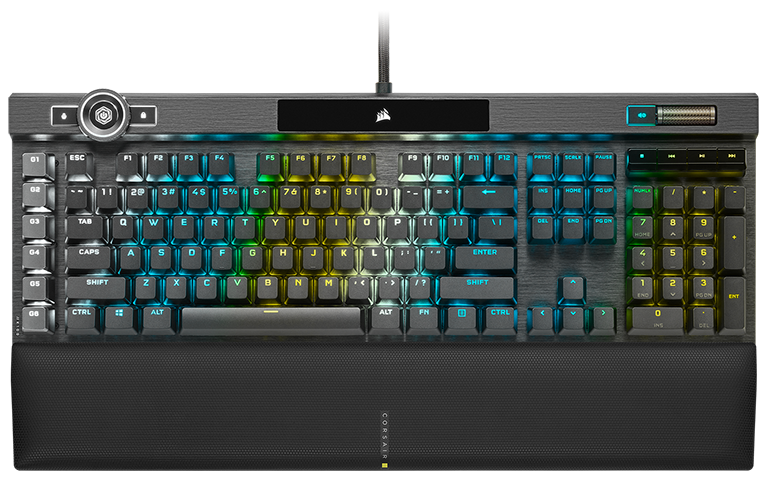 The Good

The Bad

Corsair's best keyboard hardware
iCue Control Wheel is useful
Elgato Stream Deck integration
Seemingly limitless lighting options
Dedicated macro and multimedia keys

Costs £230
Still only USB 2.0 passthrough
Palm rest has tendency to wobble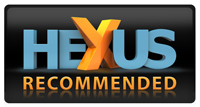 Corsair K100 RGB
HEXUS.where2buy*
The Corsair K100 RGB gaming keyboard will be available to purchase from Scan Computers.
HEXUS.right2reply
At HEXUS, we invite the companies whose products we test to comment on our articles. If any company representatives for the products reviewed choose to respond, we'll publish their commentary here verbatim.