Software and Summary
As with most gaming mice, the Ironclaw RGB Wireless will function just fine as a plug-and-play solution, but you'll want to install the 323MB iCue software utility to make the most of the various customisation possibilities. The app doesn't always feel intuitive, but offers one-stop management for all your Corsair peripherals, with easy synchronisation of lighting effects.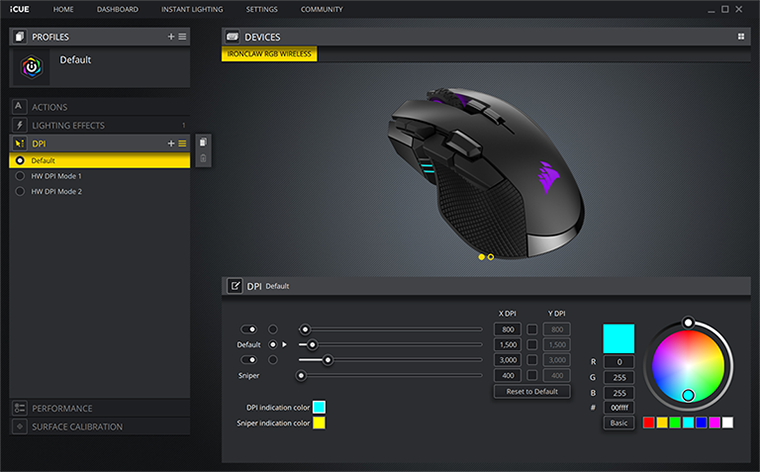 iCue's wealth of options is certainly impressive. Switch to the Actions tab and you can reassign any button to a wide choice of functions, ranging from macros to multimedia shortcuts. Macros are easily recorded, and there's a neat trick where one button can be assigned two macros; the first is triggered when the button is pressed, the second kicks in when the button is released.
The DPI tab is where the sensor can be tweaked to your liking, and Corsair offers adjustment on both the X and Y axis, as well as the option to disable certain DPI stages if you want to keep things simple. A sniper function is supported, and makes a whole lot more sense now that the mouse has 10 available buttons, and we appreciate the fact that a user-defined colour can be assigned to highlight when DPI settings are changed on the fly.
Lighting effects, as expected, are plentiful and configurable to each of the three zones, and the Settings tab is worth a visit as it contains a few useful features. These include an option to display a battery gauge in the Windows taskbar, as well as the ability to change the default sleep interval of 15 minutes.
Summary
...now includes 10 well-placed buttons, a third lighting zone, and the choice of wired, 2.4GHz wireless or Bluetooth connectivity.

Corsair has enhanced one of our favourite mice of 2019 by introducing a wireless model touting versatile connectivity and a couple of useful upgrades that help strengthen the appeal of its Ironclaw form factor.

Arriving at retail priced at £70, the new-and-improved Ironclaw RGB Wireless remains an excellent fit for righties with large hands, and now includes 10 well-placed buttons, a third lighting zone, and the choice of wired, 2.4GHz wireless or Bluetooth connectivity.

The end result is one of the most likeable mice I've used, and my only real gripe is that having to attach the charging cable from time to time can feel like a chore. An option for wireless charging would elevate the mouse from very good to outstanding, yet even as things stand, the Ironclaw RGB Wireless is an accomplished all-rounder that's well worthy of consideration.

The Good

The Bad

Choice of wireless modes
Very comfortable for large hands
10 well-placed buttons
High-end PMW3391 optical sensor
Plenty of customisation options

130g is on the heavy side
Charging can feel like a chore




Corsair Ironclaw RGB Wireless




HEXUS.where2buy*

The Corsair Ironclaw RGB Wireless gaming mouse is available to purchase from Scan Computers.

HEXUS.right2reply

At HEXUS, we invite the companies whose products we test to comment on our articles. If any company representatives for the products reviewed choose to respond, we'll publish their commentary here verbatim.