Lapboard and Summary
The K63 is designed to be a versatile tenkeyless option for PC gamers, but the ability to go wireless begs the question; where is it going to be used? As a standalone product it isn't great on your lap, and if you do wish to detach and sit back, K63 needs an accessory to complete its living-room transition.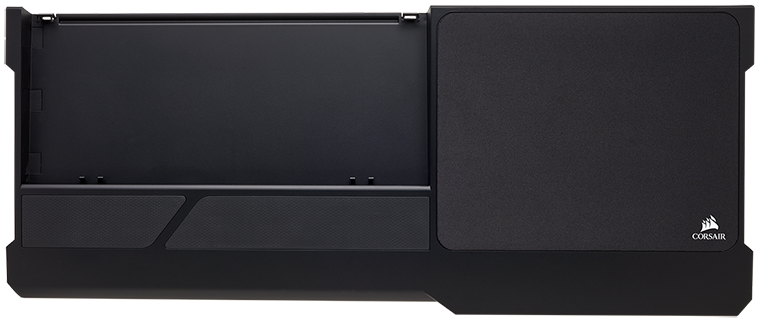 Said piece of kit is dubbed the Lapboard. Available as a £55 optional extra, and not to be confused with the ungainly Lapdog from 2016, Lapboard is essentially a 670mm x 277mm x 52mm tray designed exclusively for the K63 Wireless.
A £160 bundle deal makes the complete package more palatable, and if you struggled to get to grips with the Lapdog, K63 and Lapboard are much easier to live with. The keyboard's wireless capability ensures no trailing wires, it slots in with no hassle and is secured by a couple of plastic clips, the built-in wrist rest is quite comfy, and the cloth mouse pad surface is replaceable should it show signs of wear further down the line.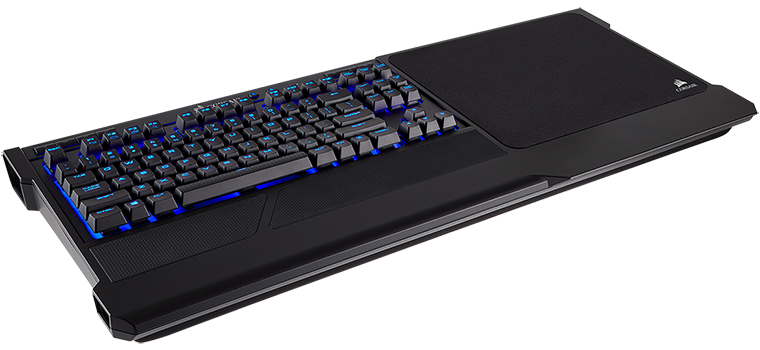 The 1.85kg weight is well distributed, giving the Lapboard good balance, and the memory foam underside feels comfortable during use. We wouldn't go as far as to call it elegant - my wife is looking forward to seeing it leave the living room - but if you insist on couch gaming with a mechanical keyboard and a proper mouse, Corsair's bundle ticks the boxes.
Summary
...vivid LED backlighting, dedicated multimedia shortcuts, good battery life and Cherry MX Red key switches that many gamers know and love.

The K63 Wireless is a welcome addition to Corsair's burgeoning range of gaming peripherals. Offering greater versatility than many of the firm's existing offerings, the keyboard promises universal appeal by offering a tenkeyless form factor that can be used either wired or wireless over 2.4GHz/Bluetooth.

Flexible connectivity is bolstered by decent build quality, vivid LED backlighting, dedicated multimedia shortcuts, good battery life and Cherry MX Red key switches that many gamers know and love. The bundled palm rest is a little flimsy, and costs quickly spiral if you consider the Lapboard accessory, yet the duo remains a viable choice for living-room gamers.

Bottom line: want a mechanical keyboard that can connect to most things and be used in most places? Corsair's K63 Wireless is a safe bet.

The Good

The Bad

Petite tenkeyless form factor
Choice of wired, 2.4GHz or Bluetooth
Cherry MX Red key switches
Vivid blue LED backlight
Good battery life

Palm rest feels cheap
Pricey when paired with Lapboard




Corsair K63 Wireless




HEXUS.where2buy

The K63 Wireless Mechanical Gaming Keyboard is available to purchase from Corsair and Currys.

HEXUS.right2reply

At HEXUS, we invite the companies whose products we test to comment on our articles. If any company representatives for the products reviewed choose to respond, we'll publish their commentary here verbatim.