Introduction
Wireless PC gaming peripherals are often frowned upon, but is the criticism misplaced? Plenty of people enjoy a tidy desktop free of cable clutter, going wireless makes sense if you enjoy gaming on the couch, and if there was an option to attach a cable when needed, wouldn't that be the best of both worlds?
That's what Corsair is hoping to achieve with one of its latest mechanical gaming keyboards, the K63 Wireless. Priced at £120 and promising "ultimate gaming freedom," this tenkeyless solution offers an attractive mix of features for a wide range of gamers.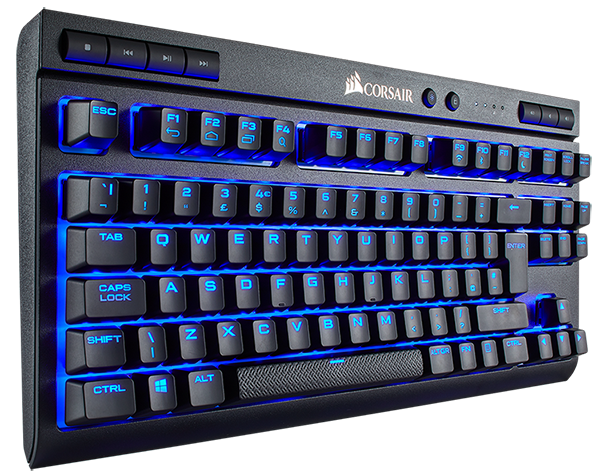 Corsair's design is consistent with others in the range, giving the K63 a familiar look and feel, though the keyboard does lack the aluminium top plate that gives the firm's dearest offerings an extra layer of polish. The K63 frame is nonetheless suitability rigid and without the numpad it is one of Corsair's more portable solutions, measuring 366mm x 173mm x 41mm in size. A weight of just over a kilogram is a tad heavier than we'd anticipated, but you'll have no problem lugging it around inside a rucksack.
Build quality feels good throughout and the features you'd expect to find on a mechanical gaming keyboard are present and accounted for. Cherry MX Red key switches? Check. 100 per cent anti-ghosting? Check. Full-key rollover? Check. A dedicated Windows Key lock toggle? Check. K63 has the basics covered, but there's more to it than that.
The key differentiator, of course, is the ability to go wireless. Covering multiple bases, Corsair includes support for either 2.4GHz Wireless via a bundled dongle or Bluetooth 4.2. The former promises desktop-like latency of 1ms and a 1,000Hz polling rate, though Bluetooth is limited to 7ms, so while we suspect most gamers will choose the 2.4GHz connection as the preferred option, Bluetooth could come in handy when hooking up to mobile devices. Both include 128-bit AES encryption.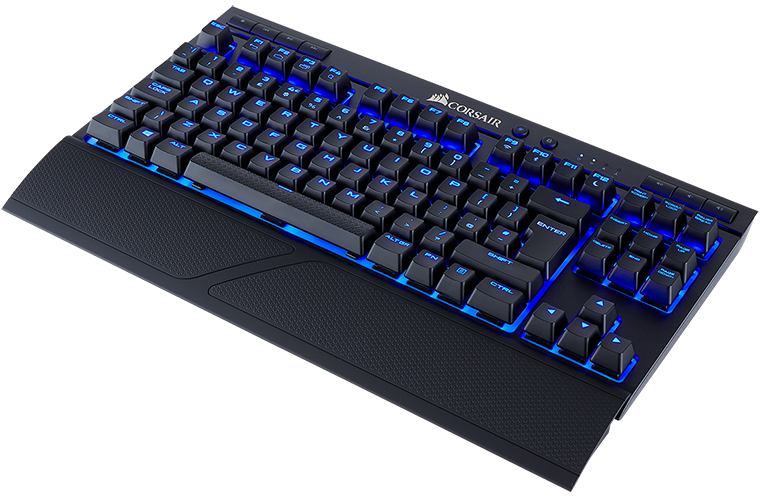 We didn't notice any perceptible lag when hooked-up over the 2.4GHz connection, though we don't claim to be professional gamers, and if you prefer not to risk going wireless during an important event, the K63 can be wired by attaching the bundled 1.8m rubber USB cable to the port lining the top edge alongside a dedicated on/off switch. The same cable is used for charging, but do note that it requires at least a USB 3.0 connection in order to provide enough juice for the internal battery. For anyone struggling with wireless range, we like the fact that Corsair also supplies a USB adapter for attaching the receiver to the end of the 1.8m cable.
Elsewhere, the areas either side of the Corsair logo are lined with a selection of non-mechanical multimedia keys - stop, skip back, pause, skip forward and volume controls - as well as an LED control button to alter the brightness of the backlight or turn it off completely. Speaking of backlight, Corsair has opted for blue illumination as opposed to RGB, so you're stuck with one colour and a choice of effects via the accompanying CUE software utility. CUE offers all the usual options - including the ability to record macros - and also adds a battery gauge to the taskbar. Do be aware that CUE customisation isn't available via Bluetooth - you'll need a 2.4GHz or wired connection in order to make changes.
On the subject of lighting and longevity, K63's blue glow is particularly vivid, but using it has a knock-on effect for battery life. Corsair reckons the keyboard will be good for 75 hours if you keep the lights turned off, however this drops significantly to 25 hours with the battery at 33 per cent brightness, or 10 hours with the backlight operating at full blast. We don't imagine battery life being an issue, particularly as you can charge while you play, and the power LED will blink red to indicate less than 30 per cent remaining.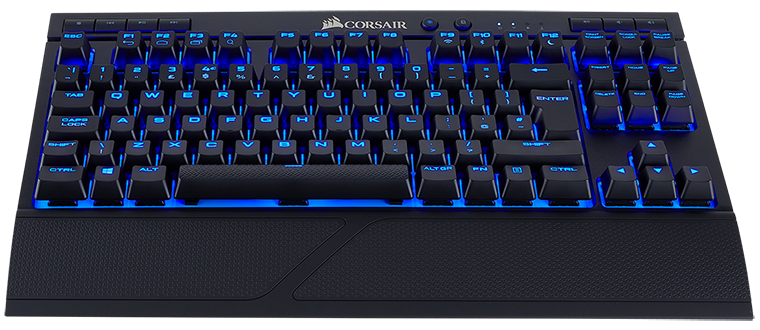 Our experience with the keyboard has been entirely free of hiccups. The 2.4GHz connection has been stable, the tenkeyless form factor is nice and petite, and Corsair's design is inoffensive. The bundled palm rest, however, feels relatively cheap, with fragile plastic mounting clips, as do the feet on the underside, and if you're accustomed to some of Corsair's previous keyboards, you may lament the lack of volume roller and USB pass-through.
During use, K63's Cherry MX Red switches offer a familiar linear action, with no audible click, 4mm of travel and actuation at half that distance, while a smooth operation and light feel make them particularly well suited to gaming. We like the fact that Corsair doesn't do anything silly to the layout - every key is where you'd expect to find it - and the large keycap font comes across as loud and clear.