Zalman 9700 - Introduction and Packaging
Introduction
The CNPS9700 from Zalman is a new – and bigger - brother of models in the hugely-successful 9500 series. It arrived on our lab bench with a reputation of being one of the best of recent coolers - and an enthusiasts' favourite - so we were hoping for big things.

We were expecting an efficient design and excellent build quality but were more than curious to see if the 9700 really could improve on what was widely accepted as an exceptional cooler.
Packaging
Outwardly, there's little difference between the retail presentation of the 9700 and 9500, though the newcomer's box is a little bigger. The box holds out the promise of "Ultra quiet" running and "Ultimate" performance. Everything you'd expect to find is within, along with a Fanmate 2 for fan-speed control.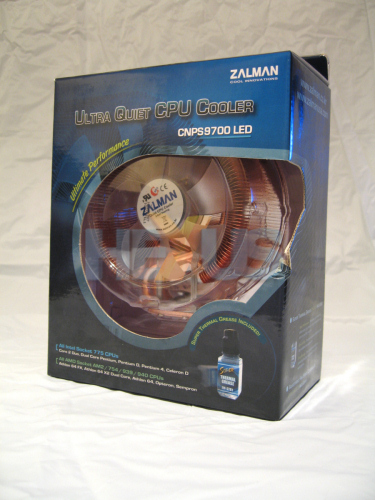 Significantly, what's also included is an excellent thermal paste or, as Zalman calls it, thermal grease. This comes in a nail-polish-style container and is brushed onto the CPU - easy and foolproof.