U.S. systems integrator Maingear is known to have a few high-end PCs in its arsenal, and it's latest arrival is no exception.
Dubbed the F1X Gaming PC, Maingear's latest offers just about everything the hardened enthusiast needs.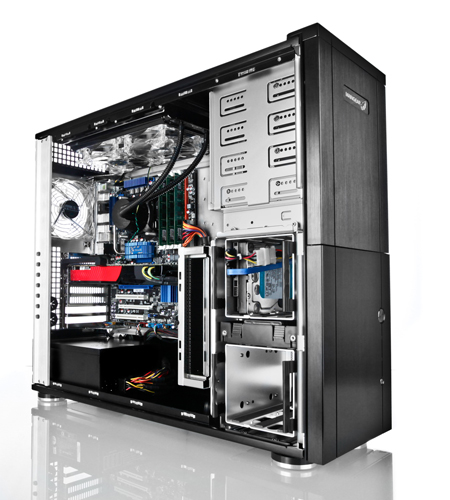 Inside the 521mm x 644mm x 207mm chassis resides a generous concoction of high-end components, with the range-topping F1X 750 model touting an Intel Core i7 975 processor overclocked to 3.6GHz, 12GB of triple-channel DDR3 memory and a duo of 1GB ATI Radeon HD 5870 graphics cards in CrossFire configuration.
That's joined by a storage pairing consisting of an 80GB Intel SSD and 1.5TB Western Digital HDD, as well as a 6x Blu-ray burner, a 1,000W SilverStone power supply and what looks like an Asetek closed-loop watercooling kit.
All that's available for a not-too-insignificant sum of $5,149, but for those with a more modest budget, Maingear's slightly toned-down F1X 500 and F1X 200 models fetch $3,099 and $2,249, respectively. All three come back with Maingear's one-year warranty, the promise of being "100% Bloatware free" and what Maingear describes as "Angelic Service".
For U.S. shoppers, all three are available now from Tiger Direct, CircuitCity.com, and CompUSA.com.