Remember the all-new performance-orientated HX450W power supply we told you about earlier this month? Well, Corsair tells us its latest addition to its Professional Series is now available "from all good stockists".
Trouble is, the unit pictured below is dubiously priced at £75.19 from Scan.co.uk - that's £2.47 more than Corsair's beefier HX520W. So what's going on?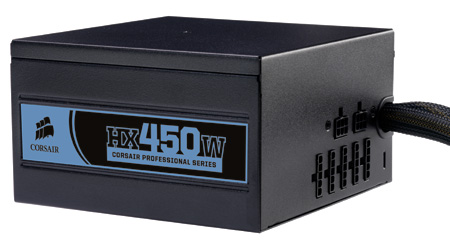 Well, unfortunately for Corsair and UK consumers, it's another sign of the knock-on effect of the fluctuating US dollar, a concern we first covered in our review of Sapphire's Radeon HD 4850 X2 - a new GPU suffering a similar fate.
The trouble is, the stock of 520W HX-series power supplies at Scan.co.uk is deemed "old stock" - purchased back then the dollar-to-pound exchange rate was favourable. The all-new HX450 doesn't have that advantage, and it's reflected in its high asking price.
You'd have to be slightly mad to buy the HX450W today, but once old stock of other PSUs is cleared, prices should realign and the HX450 will eventually become the cheapest of the HX-series range.
If you're just curious and fancy a closer look at the unit, the HX450W's official product page is now available at Corsair.com and provides a detailed specification.
Official press release: Corsair launches modular 'Professional Series' 450W PSU