Could this be the daddy of all high power PSUs?
Just last week, HEXUS reported that Corsair was preparing the 1000W addition to its HX series of PSUs.
Today, Corsair officially announced the HX1000 and declared it "the world's first 1000 watt PSU to be certified under the newly-created 3-way NVIDIA SLI Technology Certification Program from NVIDIA". That's the long way of saying "kick-ass gaming PSU!".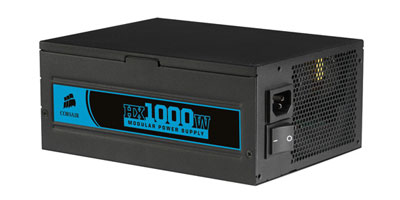 After being unveiled at CeBIT next week, the HX1000 will be available to purchase worldwide in late March at a suggested retail price of $279.99.
Jack Peterson, Corsair's VP Corporate Marketing said:
"Having the first 1000 watt power supply that is certified for 3-way NVIDIA® SLI® Technology is a great honour."
"The fact that the HX1000W meets the 3-way NVIDIA SLI Technology specification at a wattage rating that is up to 30% lower than some of our competitors highlights Corsair's superior engineering expertise and world-class product development efforts. Clearly, this is the ultimate power supply for enthusiasts and demanding customers who want the very best hardware in their gaming rigs."
Features of the HX1000, as detailed by Corsair, are:
Designed for multi-core CPUs and multi-GPU systems
Guaranteed to deliver its full 1000W output at 50ºC operating temperature
Industrial grade solid-state capacitors rated at 105ºC for uncompromised performance
True independent dual +12V rail design
140mm temperature-controlled fan for quiet, efficient cooling
Official press release: CORSAIR ANNOUNCES WORLD'S FIRST 1000 WATT POWER SUPPLY CERTIFIED FOR 3-WAY NVIDIA® SLI® TECHNOLOGY AT CEBIT 2008