Full-screen photo browsing
Though the screen you'll spend most time browsing mirrors the visual style and layout of the official website, it's the way in which you can navigate the menus and features on the iPad that makes it stand out. You can slide the navigation bar to the left-out-of-view features, such as the News Feed, on the full-screen. You can also slide the right-hand panel to the left to reveal the chat panel.

It's a little disappointing that you can only directly access your chat panel when viewing the News Feed, but it doesn't take much effort thanks to the speed in which you can move between Facebook features. The chat function also works very well.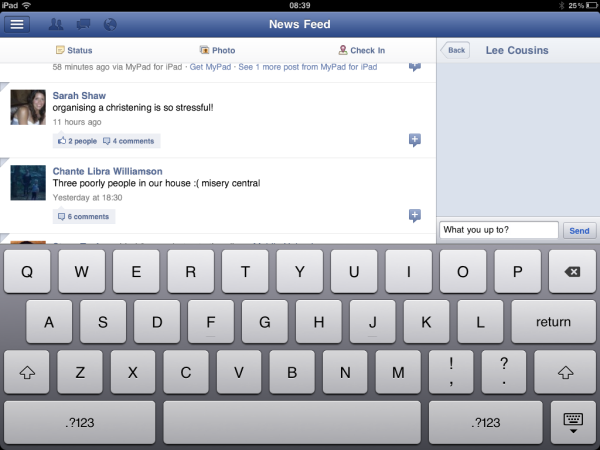 Thanks to the smooth touchscreen controls, browsing through photos is far more enjoyable than it is on official site. You can swipe intuitively through the pictures, which can be displayed full-screen, and pinch pictures to zoom in. Large thumbnails of the contents of your photo albums also make it easy to locate items quickly.

One of the features we haven't seen in any third-party Facebook apps is the ability to view a map of the world that shows locations of where people have "Checked in." With friends represented by small thumbnails it's certainly a more interesting visual representation of seeing what people are up to than merely via a standard text update. You can also click on their photo and make a comment.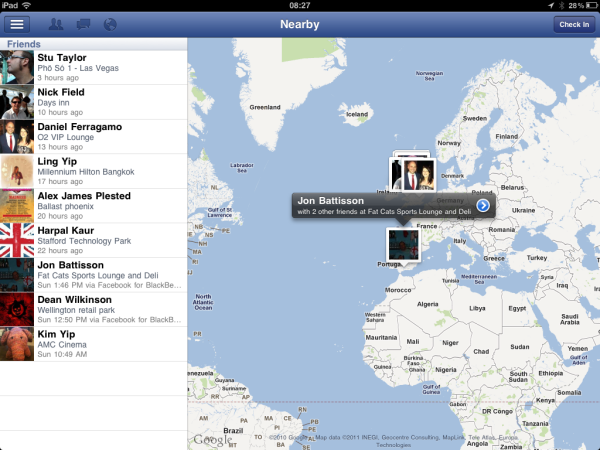 The official Facebook app also boasts some handy features that you don't see in many third-party apps, including the ability to access your account details, tweak your privacy settings and visit the help centre.

In addition, you can also load up apps and games, play them immediately, and move between the Apple Store and Facebook without a hitch. The fact that you can send a message and view notifications without losing your place in the News Feed, something that has irritated us with other apps, is also a welcome feature.

In terms of performance, the new Facebook app is a mixed bag. When it works well you'll be swiping swiftly through the menus, pages will load instantly and chat conversations flow smoothly, but there are a couple of issues.

When you receive a notification it can take a while to load the message and it has occasionally "timed out" and taken us back to the landing page. We've also been kicked out of the app on a few occasions, which seems to be linked to accessing friends' Walls. The fact that Facebook has had more than enough time to rectify teething problems does make these minor, infrequent issues irritating.

Overall, though there are many alternative Facebook apps out there - some of which are a lot of fun to use - the official app does have all the features you'd expect to be included and is an enjoyable way to get your Facebook fix. No doubt they'll be a patch out shortly to fix minor issues.



The Good

Fully-featured Facebook app
A great way to browse your photos on the full-screen
Intuitive way to navigate Faceboook with seamless transition between features



The Bad

Notifications can take a while to load
Has booted us out on a few occasions when accessing friends' Wall posts.
HEXUS Rating

Official Faceboook app for iPad
HEXUS Where2Buy
The official Facebook app is available for free from the iTunes store
HEXUS Right2Reply
At HEXUS, we invite the companies whose products we test to comment on our articles. If any company representatives for the products reviewed choose to respond, we'll publish their commentary here verbatim.