The Microsoft Surface RT tablet got a price chop today. I have observed this welcome price cut on both the US and UK Microsoft sites and retailers. The new cut applies to anyone and not just academic customers. The new base price for the Microsoft Surface RT is now $349 in the US and £279 in the UK.
Until today the entry price for a Microsoft Surface RT tablet, not including any keyboard cover accessory, was $499 in the US and £399 in the UK. Now these 32GB versions of Microsoft's Nvidia Tegra powered tablet will be $349 and £279 respectively. The 64GB versions will also be reduced to $449 and £359 respectively.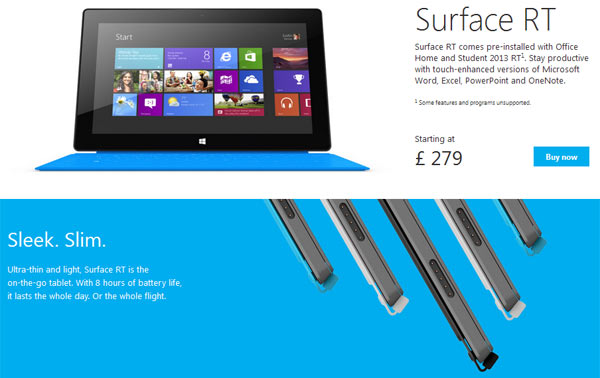 Please note, at the time of writing this article, I checked the Microsoft UK website to purchase online and when I clicked the £279 "buy now" button, I was taken to a page where the price was still at the old level of £399 for the cheapest Surface RT. So obviously the website is in a state of flux right now. For UK residents there are the choices of PC World and John Lewis, who have both updated their websites to the lower prices already. In the US the WSJ reports that both Best Buy and Staples have also already updated their online prices.
Microsoft has taken several initiatives to help shift Surface RT tablets. We saw a free touch cover promotion in May and in June we heard that prices for schools and colleges were to be severely slashed. Microsoft also gave away 10,000 RTs to teachers in the US.
A Microsoft spokesman told the WSJ that "We've been seeing great success with pricing and cover promotions over the past several months on Surface RT in the U.S. and other markets". He added that "People who buy Surface love Surface, and we're excited about all those additional people out sharing their excitement for Surface with other people."
Companies often discount and sell off older generation devices when a new version is about to be launched. At last week's Worldwide Partner Conference, a great opportunity to announce a new Surface, Microsoft said nothing specific about impending Surface device launches. However a slide presented at the conference mentioned an update to Surface RT (thought to come packing a Qualcomm processor), new Surface accessories , new accessory colours and new Windows 8.1 devices (Surface mini?), all without any timescale.
Is anyone planning to snap up one of the lower priced Surface RT tablets?