Unique death animations when using VATS
This time around V.A.T.S offers much more in terms of visual entertainment with the addition of many unique death animations when you use certain weapons. In the Ringo mission, we amusingly see Cobb's head shot clean off in slow motion. This should encourage even more experimentation with different weapons just to watch their effect on enemies. The introduction of new weapons, such as the awesome sounding grenade machine gun, should also make combat more varied and interesting to watch.

New to the series is the companion wheel, a radial menu that you can access quickly to enter companion inventories and set orders, such as commanding team-mates to be more aggressive or defensive. A.I. is said to be much improved, so hopefully we'll see companions responding accurately to commands.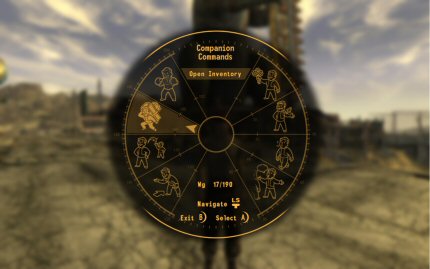 The new companion wheel



In truth, Fallout: New Vegas doesn't look too dissimilar to Fallout 3, both in look and in structure. But the new narrative, Vegas setting, tweaks to the gameplay and additions to the combat system should be more than enough to tempt fans of the series. There's not long to wait now! Fallout New Vegas is set to arrive on European shores on October 22, 2010. We'll have a full review shortly.