It may be five years since the original release of the brilliant Elder Scrolls IV: Oblivion, but one retailer has confirmed that a new special edition, which includes a money-off coupon for Elder Scroll V: Skyrim, will launch in June.

Overstock has a listing on the website for the Oblivion 5th Anniversary Edition for PlayStation 3, Xbox 360 and PC. The game is set to launch on June 28 for the North America marrket and will include The Elder Scrolls IV: Oblivion Game of the Year Edition, a "Making Of" DVD, a map of the Province of Cyrodil and a Skyrim trailer. Furthermore, the Anniversary Edition will include a $10 off voucher to buy Skyrim.

The total cost of The Elder Scrolls IV: Oblivion 5th Anniversary Edition will be $29.99. Bethesda has yet to even announce this special edition, but the listing looks genuine. Here's the box shot.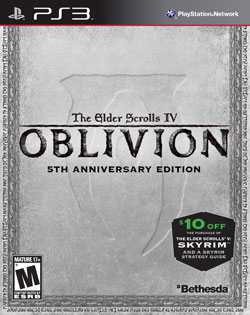 If you've not sampled the delights of the Province of Cyrodil, there's never been a better time to play Oblivion; and you might even have just enough time to complete it before Skyrim arrives on November 11, 2011.

Note -We don't know if this listing is authentic and if it is whether the special edition will make it across to European shores.