Corsair has added a new throne to its gaming chair range. The Corsair T3 Rush is the new piece of gaming furniture and it looks like a traditionally styled but (motor-) sporty office chair. It features the usual Corsair gaming chair niceties like adjustable 4D armrests and seat back. However, this time around, Corsair has upholstered a gaming chair with soft breathable fabric - which might be a bonus depending upon preference or the climate where you live in the world.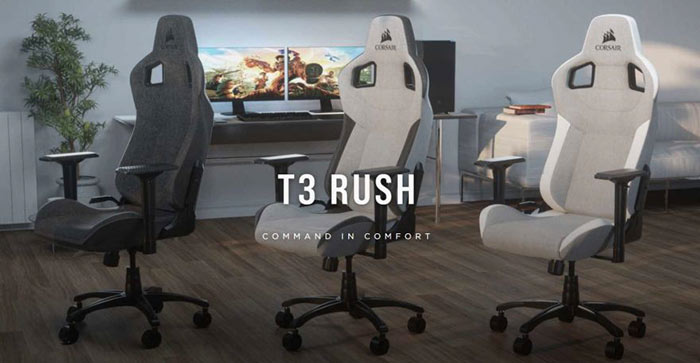 Corsair says that the new T3 Rush gaming chair is constructed using an "immensely durable solid steel frame". Padding this out is a selection of foam and memory foam in the seat, back, lumbar and neck pillows. Using fabric upholstery for the first time (neck and lumbar cushions are said to be 'microfibre') means that the chair will "retain minimal heat for cool and comfortable gaming all day and night".
As usual the Corsair T3 Rush is highly adjustable. The 4D armrests can be adjusted in any direction, while the seat back can go from fully upright to flat - 90 to 180° reclining range. This range is augmented with 10° of lockable seat tilt. Another useful adjustment is of 100mm in seat height - for this Corsair uses a class 4 gas-lift mechanism. The Corsair T3 Rush should be OK to roll on most living space surfaces with its 5x 65mm heavy-duty casters.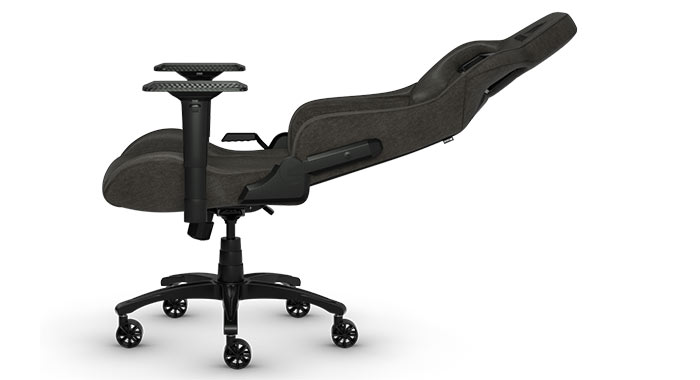 In an email to HEXUS, Corsair said that the new T3 Rush gaming chair is available immediately but that wasn't the case at the time of writing, and I found that the product video had been taken down for some reason (but the assembly guide remained). Checking the US site, it wasn't listed at all…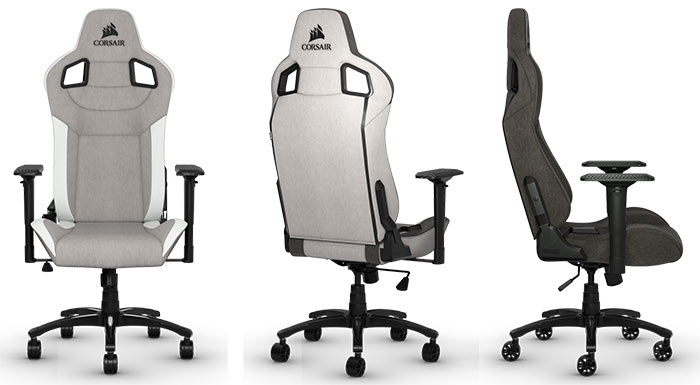 When it does become available, and it should be shortly, the Corsair T3 Rush gaming chair will be available in three colours; charcoal, charcoal/grey, and white/grey. Buyers get a two year warranty. Nosing around a bit, I spotted the chair for pre-order in Holland for €279.
Maximum Seat Height: 54cm | 21 in.
Minimum Seat Height: 44cm | 17.5 in.
Maximum Arm Height: 36.5cm | 14.38 in.
Minimum Arm Height: 28.5cm | 11.22 in.
Backrest Height: 85cm | 33.46 in.
Backrest Shoulder Width: 54cm | 21.26 in.
Package Size: 88.5cm x 69cm x 37.5cm | 34.8 in. x 27.2 in. x 14.8 in.
Net Weight: 22.5kg | 49.60 lbs
Gross Weight: 25.5kg | 56.2lbs
Warranty: 2 Years
Weight Capacity: 120kgs | 264.5lbs
Adjustable Lumbar Pillow: Yes
Adjustable Neck Pillow: Yes
Chair Base Material: Nylon
Wheel Size: 65mm | 2.55 in.
Wheel Material: Nylon
Seat Size: 56cm x 58cm | 22 in. x 22.8 in.
Seat Foam Type: Polyurethane foam (cold foam)
Seat Foam Density: 55kg/m³ | 3.43lbs/ft³
Seat Frame Colour: Black
Seat Frame Construction: Metal
Seating Surface Material: Soft Fabric
Seat Back Material: Soft Fabric
Adjustable Armrests: Yes
Armrest Type: 4D (Up/Down, Left/Right, Front/Back, Swivel)
Armrest Pad Size: 26cm x 10cm x 2.65cm | 10.2 in. x 3.9 in. x 1 in.
Tilt: Yes
Tilt Mechanism Type: Basic type (up/down, Tilted)
Adjustable Tilt Angle: 0-10°
Tilt Lock: Yes
Tilt Angle Lock: No
Gas Lift Specification: 100mm stroking height
Gas Lift Class: Class 4 grade
Recline: Yes
Adjustable Back Angle: 90-180°
Height Adjustability: Yes
Size: Regular