Software and Summary
Katar Pro XT's minimalistic design is such that it's well-suited as a plug-and-play solution, though as always you can install Corsair's iCue software utility for further fine tuning and firmware updates. At the time of writing v1.2.20 is the latest for the mouse, while the MM700 mouse pad currently runs v1.0.5. Applying the latest versions takes a couple of minutes tops.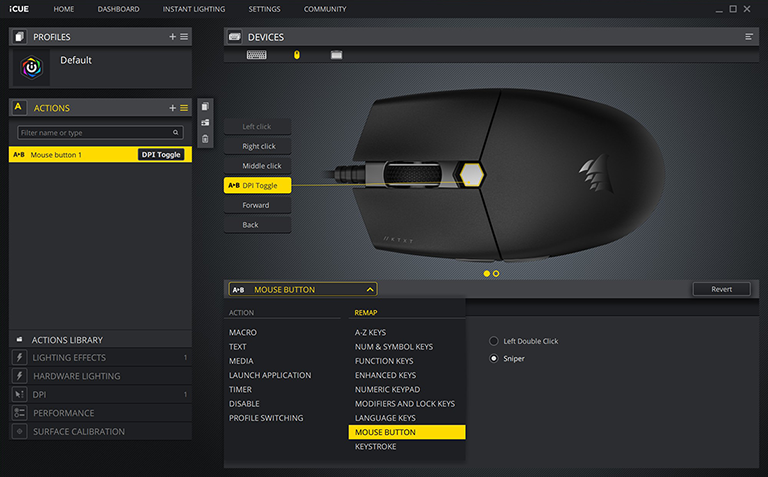 iCue's interface presents all of the available tweaks in a familiar manner. Every available button can be remapped to a wide range of actions including user-recorded macros, the backlit scroll wheel can be customised or synchronised with other compatible hardware, and the three DPI shortcuts (four if you use a sniper toggle) allow for modifications on the x and y axis, as well as colour coding for easy identification.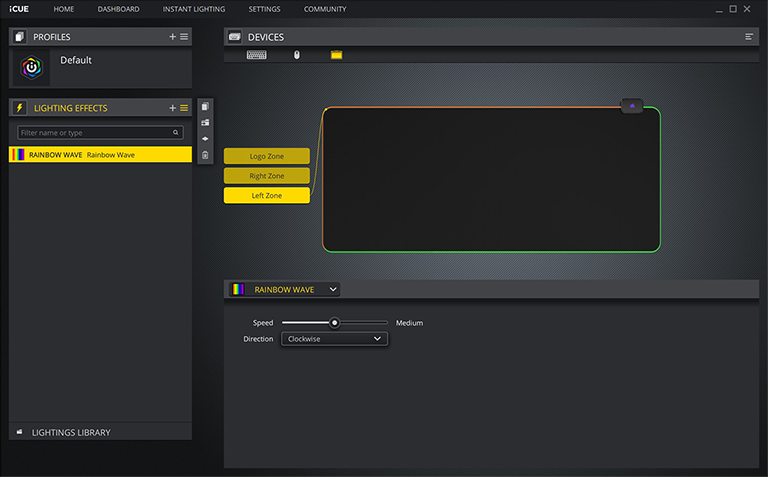 MM700 also makes an appearance in iCue for customised lighting effects, some of which work better than others. Static colours result in visible hot spots, while waves or gradients tend to offer a more consistent look. Beyond lighting, it's a shame Corsair doesn't allow the hub's solitary button to be remapped; once your lighting effects are in tune, it'd be handy to be able to use that button for something else.
Summary
...worth a closer look if first-person shooters occupy a lot of your time.

Corsair's Katar Pro XT is a no-nonsense mouse for pro gamers seeking a precise and lightweight pointer well-suited to fast-paced gameplay.

An effective plug-and-play solution, the 73g low-profile design bodes well for a claw or fingertip grip, all six programmable buttons are well-positioned and easily actuated, and at £35 it is hardly going to break the bank.

Bottom line: Katar Pro XT trades all-round flexibility to target a specific type of gamer and is worth a closer look if first-person shooters occupy a lot of your time.

The Good

The Bad

Lightweight 73g design
Precise optical sensor
Ideal for fast-paced gameplay

No memory for onboard macros




Corsair Katar Pro XT




HEXUS.where2buy*

The Corsair Katar Pro XT will be available to purchase from Scan Computers.

HEXUS.right2reply

At HEXUS, we invite the companies whose products we test to comment on our articles. If any company representatives for the products reviewed choose to respond, we'll publish their commentary here verbatim.