Evolution is the name of the game as far as Corsair's ever-expanding range of gaming headsets is concerned. The firm launched a quartet of Pro models in August 2017, and catered for wireless and USB-wired connectivity on familiar-looking headsets immediately recognisable as being from the Corsair stable.
Rather than reinvent the wheel, Corsair has updated its gaming-focussed range of Pro models to the Elite, now available in black or white trim in both wireless (£100) and wired (£70) versions, complete with logo-lit RGB. Another model, Void Elite Surround (£65), available in black or red, eschews RGB but opens up further compatibility through the bundling of both wired USB and a 3.5mm connector.
So, why has Corsair gone to the trouble of supplanting the popular Pro with Elite? Good question, and chief amongst the improvements are better 50mm drivers and a Discord-certified microphone imbued with greater sensitivity. Let's take a closer look at the Void Elite RGB Wireless in black (carbon).
Corsair's design theme remains steadfastly familiar. This wireless model ships with a 2.4GHz USB dongle that acts as a bridge between headset and PC. There's a bundled, 1.5m-long USB cable for charging, too, and that's your lot as far as accessories are concerned. It would have been nice to have a dust bag for transportation duties.
Unlike the dearer Virtuoso gaming headset, Void Elite does without Corsair's Slipstream implementation of WiFi, but just like its more stylish cousin, this headset also shuns Bluetooth connectivity, which is an oversight in our opinion, because it limits usage versatility profoundly. And given the low cost of integrating a Bluetooth chipset, this £100 set of cans really ought to be multi-purpose.
Fit and finish
RGB is sensibly limited to the Corsair sail logo on either earcup, with colour, brightness and pattern settings controlled by multi-peripheral iCUE software. Like before, the left-hand earcup is home to the power button, microphone muting, and volume adjustment. A micro-USB port is also present for charging, with Corsair reckoning the Elite is good for up to 16 hours of gaming without having to trouble wiring.
Nothing has ostensibly changed in the comfort or fit department in the transition between generations. Removable memory foam earpads, of a decent size, are covered by a fine-gauze mesh that does a reasonable job of providing comfort and minimising external noise, though do bear in mind there's no active noise-cancelling technology present on the Void line. Inside, Corsair uses upgraded 50mm drivers that extend the upper echelons of the frequency range from 20,000Hz to 30,000Hz.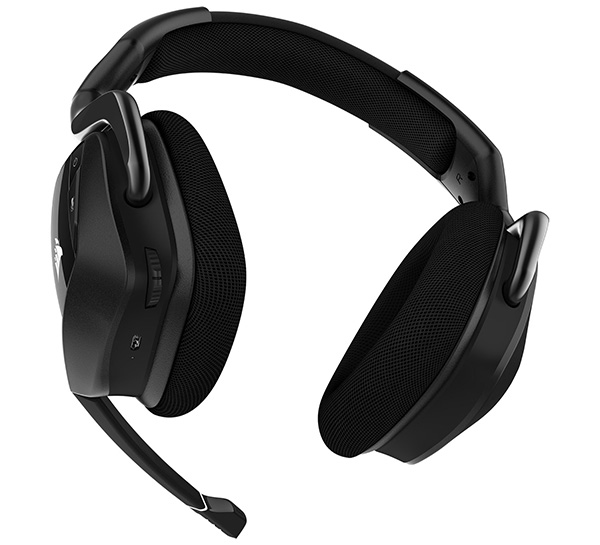 There's good articulation around the earcups - they rotate 90° to mimic travel headphones - and a solid chunk of memory foam is applied to the micro-adjustable headband. That said, with a total weight of 390g, they do begin to feel heavy if you're coming from straight-up wireless headphones. I'd put them in the middle of the comfort range, especially if you're into marathon gaming sessions.
Another improvement resides in the now-Discord-certified microphone. Still undetachable, it is now omnidirectional and extends sensitivity to -42dB (up from -38dB). The rubber stalk has a red LED strip to indicate when it's muted - you see it out of the corner of your eye - and it's nicely malleable to enable precise location. Like before, flicking it upwards mutes sounds instantly.
Control and usage
Corsair's iCUE offers a decent amount of control, and one can adjust the RGB lighting, its patterns, toggle the amount of sidetone - where you can hear yourself speak through the headset - switch between stereo or surround 7.1 modes, fiddle with EQ settings, and update the firmware. There's also a minimum five-minute auto-shutoff feature to preserve battery life, though I reckon this ought to be reduced to a minimum of a couple of minutes.
Having the Void Pro RGB Wireless model side by side is useful for comparisons. Playing through a bunch of games highlights that, whilst both sound the same at the low end of the frequency spectrum, the Elite is able to reach higher treble frequencies. That said, listening to instruments and voices that typically occupy this spectrum highlights the improvements are absolutely incremental. That, or I cannot discern much of a benefit of going beyond 20,000Hz.
I'd describe the out-of-the-box sound signature as flat and uninvolved, lacking a roomy soundstage or heft of high-quality headphones. It's not bad per se, just not quite as engrossing as I thought it ought to be. The overall experience is fine up until about 80 per cent of maximum volume, which is plenty loud for most people. Above this and the sound begins to distort somewhat.
Corsair's 7.1 implementation is robust, particularly once you tweak the settings on the iCUE page. I prefer to have the bass turned up a couple of notches, but mid-range and treble turned down, because by default it's a bit harsh.
The microphone, meanwhile, does a reasonable enough job of conveying Skype calls, but users on the other end commented that my voice sounded distant even when the stalk was close to my mouth.
All in, over a couple of days' usage, mostly listening to music and making the odd call, the battery level dipped from the full 100 per cent to 22 per cent, reinforcing Corsair's longevity claims.
Summing up
Corsair's lineage in gaming headsets culminates in the Void Elite Wireless RGB. Practically the same as its direct predecessor, better drivers and an improved microphone underscore the enhancements that come at no extra cost to the consumer. It is competent in all areas but doesn't excel in any one. That makes it a safe buy from a company whose peripheral line shows no signs of slowing down.
In an ideal world, we'd like it to be at least 50g lighter, offer fast-charging USB-C, and keep absolute control at the highest volume settings. Such features still don't detract from what is otherwise a decent gaming headset for the enthusiast/gamer looking to upgrade from bargain-basement models.
If you get on with the flat Corsair sound signature and already have a bevy of similar components, the Void Elite Wireless RGB has enough going for it to become a sensible addition to your gaming arsenal.
The Good

The Bad

Familiar Corsair fit and finish
Comfortable enough
7.1 works well


Non-detachable mic
No Bluetooth support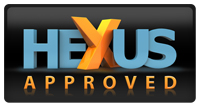 Corsair Void Elite Wireless RGB
HEXUS.where2buy*
The Corsair Void Elite Wireless RGB is available to purchase from Scan Computers.
HEXUS.right2reply
At HEXUS, we invite the companies whose products we test to comment on our articles. If any company representatives for the products reviewed choose to respond, we'll publish their commentary here verbatim.