The ASUS Transformer AiO will shortly be available to buy in the USA with prices starting at around $1,299. The Transformer AiO is an interesting hybrid computer combining Windows 8 and Android operating systems. However the systems don't really interact or overlap in many ways, except for the use of the 18.4-inch multi-touch screen hardware.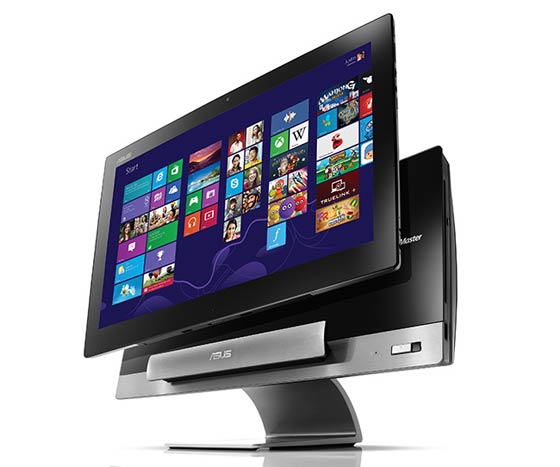 The Transformer AiO was first seen at Computex last year. Now it's good that we have a price and indication of availability for the US but no release date or pricing have been announced for the UK as yet.
Let's have a look at the specs ASUS has released:
Display: 18.4"(46.7cm), 16:9, Wide Screen, Full HD 1920x1080, LED-backlight, 178° wide viewing angle, 10 finger multi-touch
Desktop PC: choice of 3rd gen Intel Core processor from i3 to i7, NVIDIA GeForce GT730M 2GB, 4GB DDR3 RAM, 1TB HDD, Supermulti DVDRW, 4x USB 3.0, card reader, audio I/O, HDMI out, 10/100/1000 Mbps LAN, Wireless, stereo speakers, 4.1Kg. Windows 8
Tablet: NVIDIA Tegra 3 Quad-core CPU, 2 GB DDR3 at 1600MHz, 32GB eMMc Flash, 802.11 a/b/g/n Bluetooth V3.0 EDR, 1MP camera, mini USB port, card reader, audio I/O, G Sensor, stereo speakers, 2.4Kg, 5 hours of battery life. Android 4.1 Jelly Bean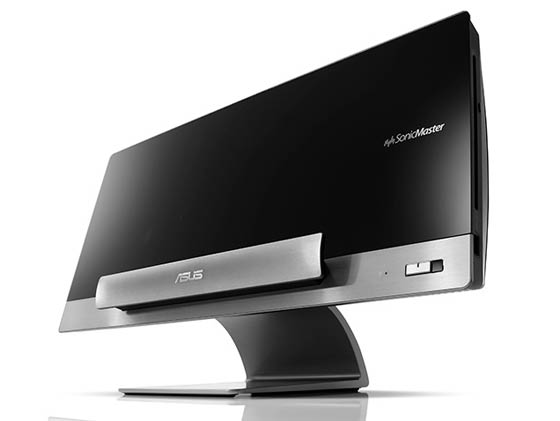 Using Windows 8 and Android
The two systems don't really overlap except for taking turns utilising the same screen hardware, so for continuous working between platforms perhaps the best options are cloud based, like using Google's online productivity suite.
When docked the screen is part of an otherwise conventional AiO PC running a modern 3rd gen Intel Core processor and with NVIDIA GeForce GT730M 2GB graphics acceleration.
Undocked you have a hefty 2.4Kg Android tablet powered by the NVIDIA Tegra 3 Quad-core SoC. The tablet has a handle on the top to make it easier to cart around, a folding stand for propping it up and a respectable battery life of up to 5 hours.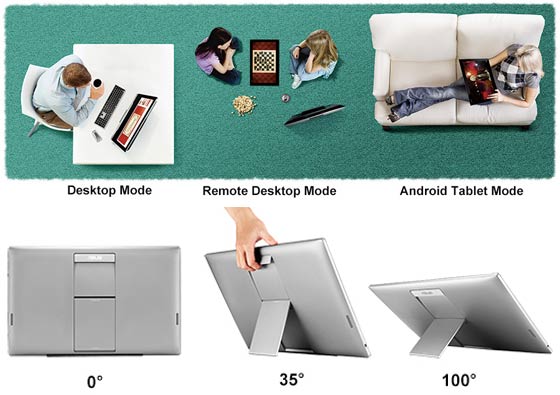 ASUS has added a little more utility to the Transformer AiO; you can use Windows 8 on the tablet using a remote virtual desktop if you connect wirelessly to the docking station. Furthermore an HDMI output on the docking station allows it to use a different monitor so you can use the Windows 8 computer while the undocked screen is used as a portable Android tablet.
Overall it's rather small for an AiO but having the portable 18.4-inch tablet to carry from room to room as a remote desktop or an Android tab may be an appealing option for some users.