Compliance testing of the Raspberry Pi computer was finished at Panasonic's facility in Wales on 6th April and shipping of the first production batch has began. Yesterday distributors RS components got a shipment to distribute to end users. Today schoolchildren in Leeds were the first enthusiasts to receive their Raspberry Pi bare bones computers.
All Raspberry Pi pre-order customers are expected to receive their computers by 20th April, so you might be waiting another week if yours hasn't arrived yet. Don't be expecting a very big parcel; they fitted over a thousand units in the back of an estate car easily (see picture below)…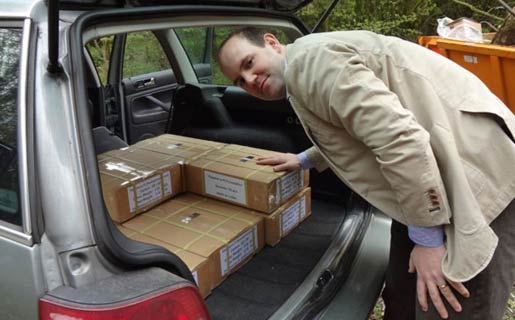 As a reminder the Raspberry Pi is a credit-card-sized circuit board containing enough components and interfaces to make it a barebones computer. It features a USB port (keyboards, etc), SD card slot (storage), 700MHz CPU & GPU combined with 256MB RAM and choice of RCA or HDMI video connection, there are also connectors for audio, Ethernet networking and mini-USB power. To help you get started the RasPi homepage has links to operating-system images to install on your SD card, you can choose between Debian Squeeze, Arch Linux and Fedora 14 Remix right now.
Many commentators and reporters voice hopes that this fantastically-priced new home computer will revive the home computing spirit and inventiveness that were born from BBC Micro and Sinclair computer users.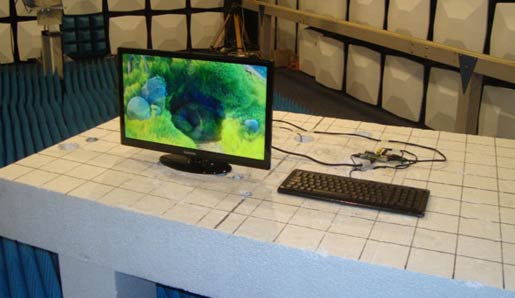 Raspberry Pi undergoing emissions testing
For an outlay of about £30 including shipping I'd say the ARM powered RasPi is a lot better value than the Spectrum 48K I bought from WH Smiths in 1986 costing about £150. It will be interesting to see what these computers have been used for a year or two from now, if there really will be a new generation of programming whiz kids come out of this project. Hopefully it's not just going to be famous as cheap way to play pirated movies on your big telly! However I am sure there will be some nice case designs for this barebones little computer. Also I think I'm going to buy one later on this year; waiting for the killer apps and the price drop…