The tirade of touchscreen all-in-one PCs continues, and we're back at ASUS' booth for what could be the pick of the bunch.
What we're looking at here is the Eee Top ET2203T, an all-in-one system that has long been touted and has now finally been shown off in working-sample form.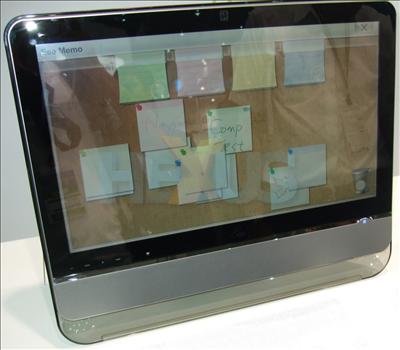 The system makes use of a 1,920x1,080 full-HD screen measuring 21.5in, but it's packing more oomph than most of the competition. Inside the Eee Top ET2203T resides a 1.86GHz Intel Core 2 Duo T6500 processor, 4GB of DDR2 memory, and discrete graphics in the form of AMD's ATI Radeon HD 4570.
More than ample, we reckon, and it's topped off with a slot-loading Blu-ray drive, a 320GB hard drive, Wi-Fi, Bluetooth, and an integrated TV tuner. It's unlikely to be cheap, but we found the touchscreen to be accurate and responsive - if you're looking for a higher-end touch-enabled all-in-one, this one's looking mighty promising.