Acer's Aspire Revo has been doing the rounds in recent weeks as the first nettop to sport NVIDIA's ION platform - that's GeForce 9400M-class graphics coupled with an Intel Atom processor.
Today, the supposedly-affordable-and-tiny 1080p-capable PC has become available at Play.com, and it's... well, surprisingly affordable. Today's listings show the base model - equipped with a 1.6GHz Intel Atom N230 processor, 1GB of RAM, an 8GB SSD, GeForce 9400M graphics and a Linux operating system - etailing at a cost of £149.99.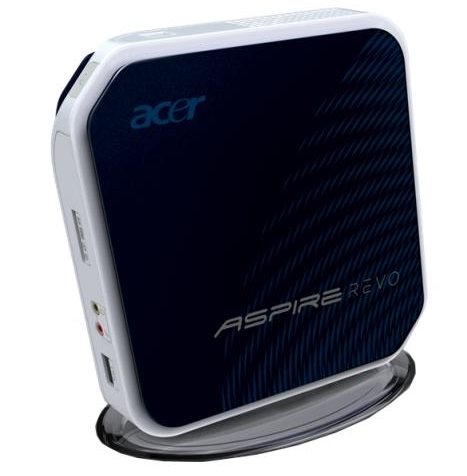 Not a whole lot, considering that the system is essentially a small-and-low-power HTPC that's capable of high-def output. The Revo's armed with HDMI or VGA out, eSATA, six USB ports, a memory-card reader, Ethernet and Wi-Fi connectivity, and a wired keyboard and mouse, too.
Of course, the Linux flavouring might not appeal to all users, and the single-core Intel Atom processor may struggle with certain tasks. But for a penny under £150, it's hard to complain. If, however, you insist on doing so, there's another option - the £249.99 Acer Aspire Revo, beefed up with 2GB of RAM, a 160GB hard drive and Microsoft's Windows Vista Home Premium operating system.