First it was dubbed the Hornet, then it became the Aspire Revo, and, now, it's up for pre-order.

What we're referring to is Acer's NVIDIA ION-based PC that couples an Intel Atom N230 (1.6GHz) chip with NVIDIA's GeForce 9400M-class graphics The end result, NVIDIA says, is a system that's low on power and price but high on multimedia - ports include VGA, HDMI, and eSATA - promising stutter-free 1080p playback and, dare we say reasonable gaming for an oh-so-small box.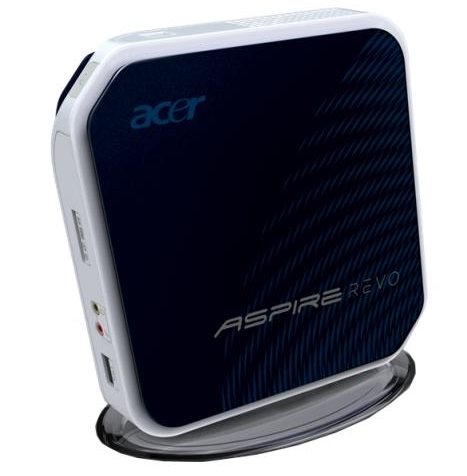 Popping up on
Play.com
as a pre-order item with an estimated release date of 18th May, 2009, the Aspire Revo - from Play.com at least - will be available in four incarnations.
Sharing the base specification of Intel Atom N230 and NVIDIA 'ION' graphics (GeForce 9400M), together with a bundled keyboard and mouse, the entry-level model will ship with 1GB RAM, 8GB SSD for storage, and Linux OS. Expected to sell for
£179.99
the value proposition is sharp.
Up a rung and system RAM is upgraded to 2GB, storage to a 160GB mechanical drive, along with Vista Home Premium. Pricing, too, takes a hike, coming in at
£249.99
. We wonder how the low-power system will cope with the clunky OS?
Spank another £50, up to
£299.99
, and the specification remains the same, albeit with a 3D game controller and a host of games.
Finally, lay down
£329.99
and you'll receive all the goodness of the £299.99 bundle, augmented by a wireless keyboard and mouse.
Thoughts


The £179.99 box does look appealing, lining up well against the cheaper netbooks. Add in Microsoft Vista and pricing, expectedly, takes a massive percentage jump. You'll need to factor in a screen - be it TV or monitor - pushing the overall cost of purchase close to better-performing desktop models, or, indeed, laptops with the similar jiggery-pokery inside.