Acer's on something of a charge today. Having already launched the world's first nettop to feature NVIDIA's ION chipset and a series of ultra-thin Aspire Timeline notebooks, it has also managed to find the time to announce what looks like a very useful all-in-one PC.
Dubbed the Acer Aspire Z5600, this smart-looking all-in-one enters an increasingly-popular market with the promise of being "engineered to maximise the full promise of the next operating system from Microsoft called Windows 7".
That'll be referring to the Aspire Z5600's 24in 1080p multi-touch display, of course, which Acer will be hoping entices customers drawn by the touch functionality built into Microsoft's forthcoming operating system.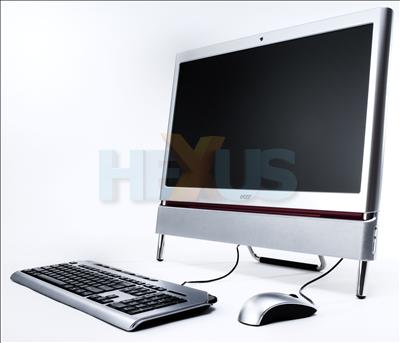 We're liking the system's looks - aside from the wired keyboard and mouse, that is - but whilst Acer's brief introduction has us licking our lips, we don't yet know a whole lot about what's actually going to be inside the sleek-looking machine.
According to Acer, it'll be equipped with "the latest generation of Intel processors", but whether that's an Atom, a CULV, a Core 2 or something else is anybody's guess. The Intel chip will be joined by up to 2TB of hard disk space, an integrated TV tuner and a Blu-ray drive, too.
If the price is right, the Aspire Z5600 sounds like it could be a cracking wall-mountable system. However, there's no mention of availability so we wonder if Acer is holding out for Microsoft to get the ball rolling with Windows 7.
Official press release:
A 'Touch' is all You Need with the New Acer All-in-one