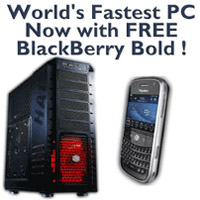 YOYOTech has announced that it will be "adding in huge extra value for its high-end customers by bundling a free BlackBerry Bold" with its Intel Fi7epower MLK1610 PC system.
The awkwardly-named system claims to be the "world's fastest PC", and features an Intel Core i7 960 processor overclocked to 3.73GHz, 9GB of DDR3 memory, a solid state drive, AMD's Radeon HD 4870 X2 graphics card and Blu-ray functionality, too.
It's a mighty system alright, but it isn't easy to sell a £4,000 PC at the best of times, and it's even tougher when the world's economy is facing peril. Will bundling a free BlackBerry be enough to entice would-be buyers? YOYOTech managing director, CK, seems to think so and states that "the kind of customers who want a system like Fi7EPOWER, also want to be constantly linked to the world."
We're not sure it'll do the trick, but if you just so happen to have been contemplating buying a £4,000 system, now might be the time, and you can take advantage of YOYOTech's offer at yoyotech.co.uk/bold.