SanDisk is refreshing its range of SSDs with new models that promise improved performance and double the capacity of previous-generation G3 drives.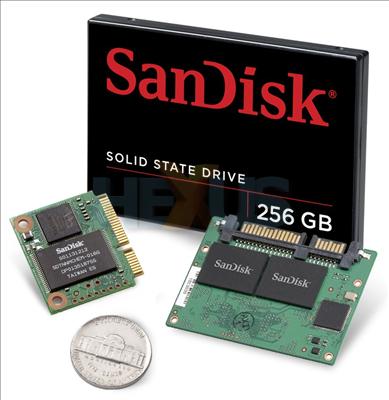 Built on SanDisk's 32nm process, the fourth-generation drives make use of multi-level cell (MLC) memory and are expected to feature in top-tier notebooks, tablets and other devices later this year.
The new 2.5in SSD G4, pictured above in black, will target notebooks and be available in capacities ranging from 64GB to 256GB - a 100 per cent increase over the 128GB G3.
Promising read and write speeds of 220MB/s and 160MB/s, respectively, the G4 drive is on track to deliver over a 30 per cent performance boost and will incorporate the ExtremeFFS page-based algorithm; which is SanDisk's own take on SSD garbage collection.
The SSD P4, meanwhile, will set its sights on tablets and handheld devices, and will be available in capacities ranging from 8GB to 128GB.
Boosting the P4 module's performance is an on-board nCache, which SanDisk describes as "a large non-volatile write cache that boosts burst random write performance to shorten boot times, help prevent stalling and hiccups, and increase system responsiveness".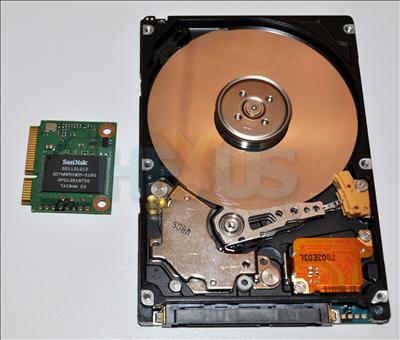 Catering for increasingly-small systems, SanDisk is also introducing a new form factor to its SSD P4 range with the launch of the mSATA mini.
The ultra-small module measures just 26.8 x 30.0 x 3.4mm and will offer up to 64GB of Flash storage, making it ideal for use in anything from handhelds to netbooks.
All of SanDisk's G4 drives are now being sampled to OEMs and high-volume production is scheduled for Q3 2010.