Revoltec keeps pumping them out.
Revoltec/Be quiet
Mosying on over to the Revoltec stand, we were pleased to see a number of new-ish products on display that will be released to the market in the summer of '06. Revoltec's focus is on PC enthusiasts that want their kit to stand out from the rest. Customers tend to be male, aged 13-30, and interested in gaming in particular.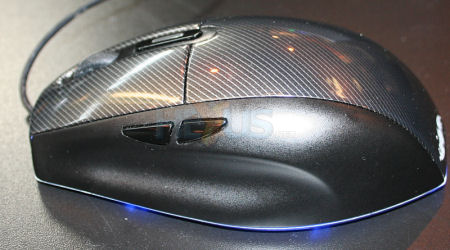 Which leads us nicely on to the Revoltec Light Mouse Advanced 2000dpi. It's a latest laser-based mouse that has a changeable dpi mode at the flick of a button. You're able to toggle through 400, 800, 1600, and 200dpi, and, in keeping with the funky Revoltec design theme, has blue LEDs that give off a cool look. What's more, you can change the weight of the mouse, to suit your needs, by simply adding in extra weights (bundled in) into the back.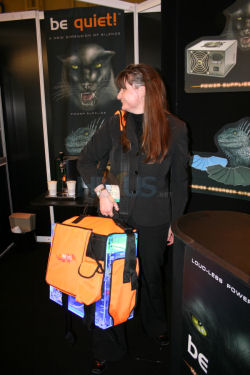 So you're all set to go to a LAN party. How do you ensure that you'll arrive in style. Simple. Use the new Revoltec LAN bag which also has space for your keyboard and mouse. The bright orange colour means your entrance won't be missed. Dorothee, Revoltec's PR manager, proves to be a strong, capable model, albeit camera-shy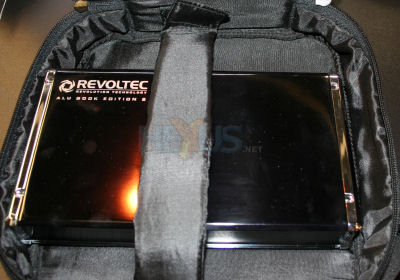 Revoltec is also launching a new eSATA-compatible aluminium external drive enclosure and a travelbag, pictured above, to keep it safe. Available in red, green, blue and, obviously, black. We'd like to see a model that incorporated FireWire support, too.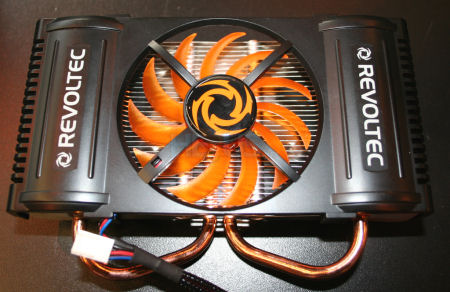 Designed to cool ATI and NVIDIA's high-end graphics cards with ease, Revoltec's Graphic Freezer Pro aftermarket cooler uses the tried-and-trusted heatpipe-based approach to wick away heat from the hot-running cores. Build quality was excellent on the sample model. We should have a sample in soon.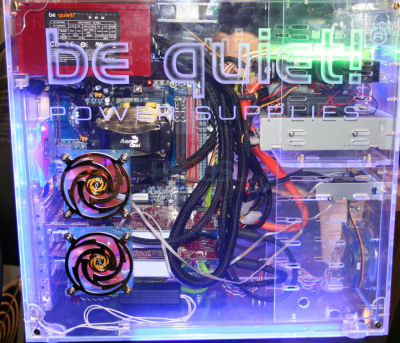 Revoltec's sister company, Be quiet, as the name suggests, specialises in keeping PC noise down to a minimum. It demonstrated a power PC, equipped with CrossFired Radeon X1900 XT cards, an AMD Athlon FX-60, along with various fans, happily running with a 430W Be Quiet PSU. Even under extreme load and artificially high temperatures of the CTS show, the PSU remained quiet, reminding us that quality is often more important than quantity.