Corsair has announced that its recently-launched HX750 and HX850 modular power supplies have been officially awarded Gold certification by the 80 PLUS program.
The 80 PLUS Gold certification launched in addition to Bronze and Silver early in 2008 and is awarded to power supplies capable of achieving at least 87 per cent efficiency when under 20 per cent load, 90 per cent efficiency under 50 per cent load and 87 per cent efficiency under 100 per cent load.
Corsair's latest 80 PLUS results are in, and both the HX750 and HX850 exceed the Gold requirement, with the latter scoring 89.14 per cent, 90.38 per cent and 87.06 per cent, respectively.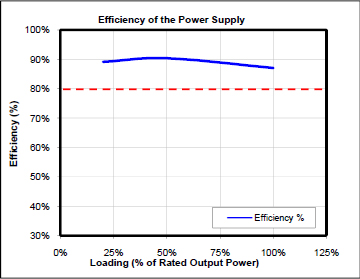 Corsair reckons that makes the HX750 and HX850 the first 80 PLUS Gold certified modular power supplies to ship, and both are available from SCAN.co.uk* priced at £114.71 and £134.38, respectively.
Want an in-depth look at Corsair's offerings? Head on over to our review of the Corsair HX850 by clicking here.

*As always, UK-based HEXUS.community discussion forum members will benefit from the SCAN2HEXUS Free Shipping initiative, which will save you a further few pounds plus also top-notch, priority customer service and technical support backed up by the SCANcare@HEXUS forum.