Corsair has used CES 2019 as a platform to launch three new performance gaming mice. Two of the mice are wired but one can use USB/Bluetooth/Wireless 2.4GHz. For some gamers wireless is a no-no, however Corsair's new Slipstream wireless technology is said to give gamers "the confidence to go wireless even when the stakes are at their highest".
Key claims by Corsair for its Slipstream wireless technology are that it delivers "sub-1ms latency to the receiver and a stronger than ever wireless signal". We are told that Slipstream tech relies upon 2.4GHz wireless and that it transmits "twice the packets of previous generation wireless devices." Corsair's Intelligent Frequency Shift (IFS) maintains a strong signal even in wireless traffic heavy locations and is capable of a robust performance range of up to 33ft, should such a need arise.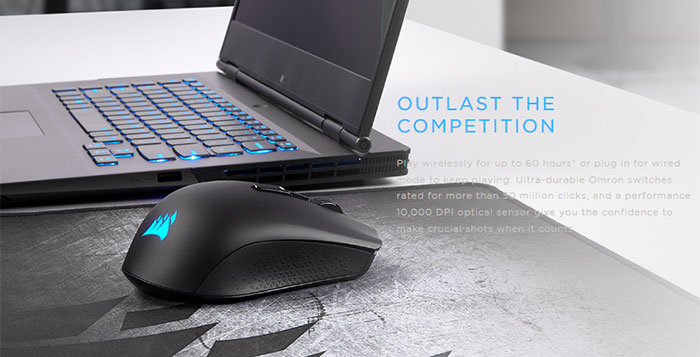 Corsair's Harpoon RGB Wireless doesn't just do Slipstream, it also offers Bluetooth and wired USB connections - conveniently adaptable depending upon your situation. It is both compact and light (99g) but its built-in Li-Po battery will provide up to 60hrs untethered use (BT 4.0 option), or up to 40 hours with standard RGB lighting applied. For Wireless 2.4GHz use Corsair supplies a compact USB 2.0 adapter. If you opt for a wired connection there is a 1.8m tangle free rubber cable supplied.
Inside the Harpoon RGB Wireless is a PMW3325 10,000 DPI optical sensor, and it sports six fully programmable buttons, uses ultra-durable Omron (L/R) switches, and integrated RGB lighting configurable in CORSAIR iCUE software. The Harpoon RGB Wireless mice, actually all these new mice, are available immediately via Corsair and partners. If you fancy the Harpoon RGB Wireless it will set you back £54.99.
The Corsair M65 RGB Elite is an upgrade to the iconic Corsair M65 design "with a wealth of new enhancements based on the feedback of thousands of M65 users," according to the peripherals maker. It is said to be more accurate than ever due to the use of the custom PMW3391 developed in conjunction with industry leader Pixart (and as used by the Ironclaw RGB, below). Furthermore, sensitivity is adjustable in 1DPI increments.

Corsair says the M65 RGB Elite has been created around a durable aluminium frame and weighs 97g, which is 15 per cent lighter than its predecessor. However, users can tune the mouse mass up to 115g using removable weights. Other key features are the redesigned side button cluster with a convenient sniper button that instantly reduces sensitivity on-the-fly, and two-zone dynamic RGB lighting. This new gaming mouse costs £59.99.
Last but not least, the Corsair Ironclaw RGB has been reviewed earlier today here on HEXUS. It is a wired gaming mouse designed for larger hands and palm grips and costs £54.99. For an overview of other Corsair components launched at CES 2019, check out the video below.
Loading...
Been waiting a while?
Get Flash
to see this player.