Remember the Valentino Rossi-inspired netbook being teased by Packard Bell at the tail end of 2009?
Well, it's still happening, it's officially known as the "dot VR46", and it'll be hitting UK stores in the very near future priced from £449.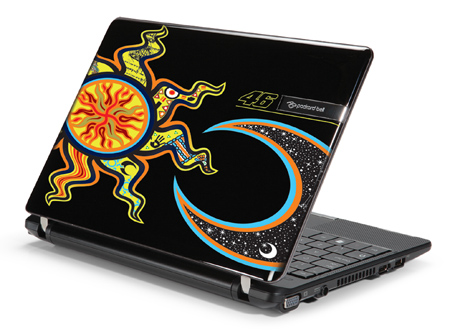 The limited edition 11.6in netbook is the first in what's expected to be a range of systems inspired by the nine-time Moto GP world champion, and features elements designed by Rossi's own graphic designer, Aldo Drudi.
Finished with the Sun and Moon that adorns Rossi's helmet, the design is said to appeal to "Rossi's fans and fashionistas who want a unique netbook sporting high performance".
We're not so sure about the ostentatious looks - though, admittedly, we aren't MotoGP fans - but we do like what Packard Bell has done with the hardware. Despite referring to the dot VR46 as a netbook, it sports a useful 11.6in display offering a 1,366x768 resolution. That's joined by a choice of ultra-low-voltage Intel processors - including the ULV Core 2 Duos - along with 2GB of DDR2 memory and integrated Intel GMA 4500MHD graphics.
Not exactly the performance you'd come to expect from anything associated with Rossi, but a very useful ultra-portable, and Packard Bell reckons the six-cell battery will provide up to eight hours of use from a single charge.
Elsewhere, there's up to 640GB of hard-disk storage, a five-in-one card reader, Ethernet, Bluetooth and Wireless N connectivity, as well as three USB ports and HDMI out. There's no room for an optical drive, sadly, but Packard Bell describes the dot VR46 keyboard as "full size", and that's joined by a gesture-enabled multi-touch trackpad.
There's no firm launch date as such, but Packard Bell tells us the dot VR46 will be "coming soon to the UK".