For the naysayers loathing the perceived performance of Intel's second-generation Atom architecture, here's something that could hit the sweet spot of performance, mobility and prolonged battery life at under the £500 mark.
It's called the Packard Bell EasyNote Butterfly Touch Edition, and it's a 11.6in tablet sporting Intel's tried-and-trusted CULV platform.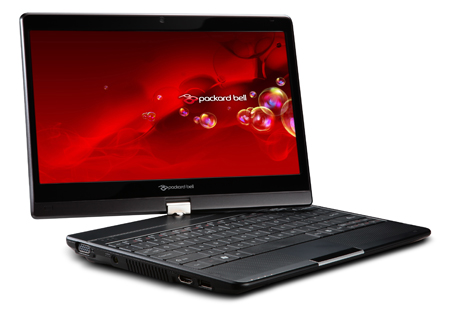 Inside the smart-looking unit resides an ultra-low-voltage 1.6GHz Intel Core 2 Duo SU9400 processor and integrated Intel GMA 4500MHD graphics. A combination that although unlikely to rock your world will breeze past the capability of entry-level Atom systems. Not entirely at the expense of battery life, either, with Packard Bell suggesting the EasyNote Butterfly Touch Edition will last for up to eight hours - a figure that we know to be fairly accurate for CULV-based systems.
Users will be able to equip the system with up to 640GB of hard-disk storage and up to 4GB of RAM. Wi-Fi, VGA and HDMI connectivity are all onboard - whilst 3G and Bluetooth remain optional - and there's a flush six-cell battery as standard.
What makes the system particularly interesting is the multi-touch 11.6in display that rotates 180 degrees to transform the notebook into a tablet PC. The display offers a useful 1,366x768 resolution, and a built-in accelerometer ensures image orientation remains upright. It weighs around 1.6kg, too, so it's certainly suited to the ultra-mobile category.
Throw in a multi-gesture touchpad, a five-in-one card reader, built-in webcam, Cherry Red or NightSky Black finishes that "draw inspiration from the grace and beauty of a butterfly" and Microsoft's Windows 7 Home Premium operating system, and it looks like you're getting a whole lot for £499.
You won't get one in time for Christmas, though. Packard Bell expects the EasyNote Butterfly Touch Edition to swoop into stores at the end of February 2010.