We've become accustomed to seeing notebooks inspired by the world's biggest automotive names, and the likes of Lamborghini have often attached their brand to expensive high-end and luxurious systems.
The latest mix of motoring and computing comes from Acer subsidiary Packard Bell, who has unveiled a netbook inspired by nine-time Moto GP world champion Valentino Rossi.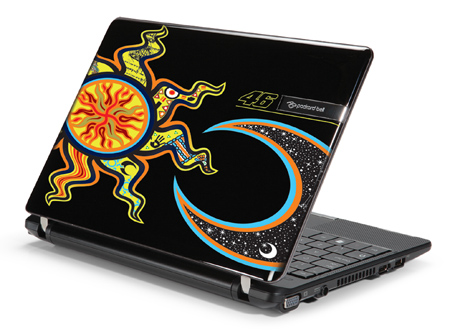 Described as an "exciting line of Packard Bell products designed for the on-the-go lifestyle of all those who love exclusive, unique, top-performance objects", the netbook will be the first in a line of Rossi-inspired systems and features elements designed by Aldo Drudi, Valentino Rossi's graphic designer.
Available designs are said to include the Sun and Moon (pictured) that adorns Rossi's helmet or the champion's famous nickname "The Doctor". The system will also carry Rossi's number - 46 - as well as his signature.
Sounds like a fitting tribute to one of the most famous motorcyclists of all time, but will the performance of the system live up to the expectations set to by Rossi himself? That remains a question mark as Packard Bell isn't yet willing to divulge any details on specifications. The fact that the system itself is described as a netbook leaves us in doubt, but Packard Bell is promising to "integrate the most advanced technologies available on the market".
No word on pricing, but expect to see this one - and possibly others from the Packard Bell "Rossi" line - at next month's CES.