The success of ASUS' Eee PC - a mini-notebook that ships with the bare essentials and low price-tag - has shown the industry that there's a huge market for no-frills, lightweight laptops.

Intel is attempting to cash in on this trend with its Atom processor, designed for both MID (mobile Internet device) and netbook usages under the Silverthorne and Diamondville variants, respectively.

HP is getting in on the mini-notebook act, too, with the launch of its HP 2133, pictured below.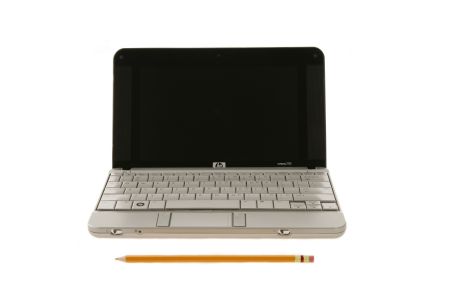 Powered by a VIA C7-M ULV CPU running at 1.6GHz, the 1.27kg laptop ships with an 8.9in WXGA (1,280x768) screen, 120GB hard drive, gigabit Ethernet, high-definition audio, ExpressCard 54, Bluetooth, 802,11b/g Wi-Fi, and 2GB of DDR2-667 RAM.

Possible mobile usage should be good; as the unit is equipped with a six-cell (55WHr) battery, although all other models ship with a three-cell (28WHr) as standard.

We're not too enamoured that the $749 (£375) top-of-the-range model, listed above, is supplied with Windows Vista Business 32-bit operating system - the CPU simply doesn't have the power to do the bloaty OS justice.

Looking further down the SKU scale, the same laptop can be purchased with a 1.0GHz C7-M ULV, SuSe Linux OS, 4GB Flash-based drive, 512MB DDR, 802.11a/b Wi-Fi, and 28WHr battery, all for $499 (£250).

We'd have been far more pleased to see the HP 2133 launch with Intel's Atom processor, and such a model may well be brought to market by HP. As it is, a reasonable specification that will, most likely, be hamstrung by the underpowered VIA processor.