LUXA2, a division of Thermaltake, is setting out to deliver sleek-looking HTPC chassis that offer something different to Thermaltake's usual array of gamer-specific products.
The pick of the bunch, in our estimation, is the sexy little LM100 Mini - designed for the mini-ITX form factor. On show at CeBIT '09, this little beauty is described as "exquisite and desirable", and we're almost inclined to agree.
The LM100 Mini measures just 282.5mm x 232mm x 123.8mm and features a 5mm solid aluminium finish that LUXA2 hopes will blend into most users' living rooms with ease.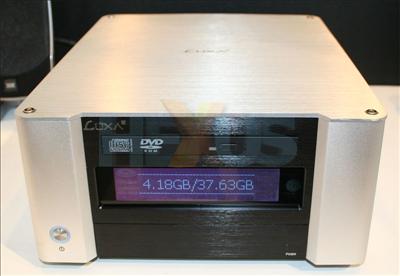 Commanding the LM100's front face is a VFD display, accompanied by a flip-down front panel that reveals USB, FireWire and audio connection ports.
Inside there's room for one optical drive and one 3.5in hard drive, a single expansion slot and a bundled 200W flex-ATX power supply. Cooling comes courtesy of dual 50mm fans at the rear of the case, and it's near-silent in operation.
There's no mention of pricing yet, but throw in say a GeForce 9300-based mini-ITX board and a few other components, and you're looking at a sexy living room PC.