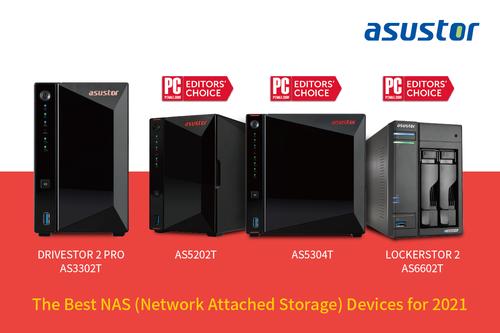 Taipei, Taiwan 26 August 2021 – The Drivestor 2 Pro was listed as one of the best NAS devices of 2021 by PC Magazine. Among the ten NAS devices listed, ASUSTOR occupies 40% of the entire list. These include the aforementioned Drivestor 2 Pro as well as the Lockerstor 2, and Nimbustor 2 and 4.
The Drivestor 2 Pro relies on its stable and fast 2.5GbE Ethernet port for maximum speed while the tool-free hard drive assembly makes installing drives easily. ASUSTOR NAS devices have a variety of high-quality apps that improve the experience on the all-new ADM 4.0 OS that is preinstalled on every Drivestor 2 Pro. The new and improved user experience, combined with the amazing hardware and value make the Drivestor 2 Pro stand out and is the reason for its well-deserved praise.
Aesthetic!

The beauty of the rose gold logo and diamond-cut chassis of the Drivestor 2 Pro is complemented by its hardware. Equipped with a Realtek RTD1296 1.4GHz quad-core processor and 2GB of DDR4 memory, the Drivestor 2 Pro provides more power while also saving power. Transcode 4K H.265 content easily with Media Mode to ensure high-quality video playback on almost any device. Hard drives are accessible through the tool-free trays that also are removable for quick removal and replacement. The Drivestor 2 Pro's 2.5GbE port provides high-speed networking for both the home and office for a great price.
For more information, please visit: https://www.asustor.com/
More reading:
• The Best NAS Devices for 2021
• Drivestor 2 Pro AS3302T
• Lockerstor 2 AS6602T
• AS5202T
• AS5304T