Introduction
The gamification of all manner of tech product tends to be frowned upon, and for good reason, as Gaming Edition variants typically offer little more than garish aesthetics and superfluous RGB lights. It stands to reason that when the gaming-ready Asustor Nimbustor 4 NAS arrived at our doorstep, we had our reservations.
Fortunately, there are plenty of gamer products out there that make a good deal of sense, and this just so happens to be one of them. Rather than focus on unnecessary additions, the Nimbustor 4 AS5304T, priced at £440, is all about speed and performance, and you don't need to be a gamer to appreciate fast network storage.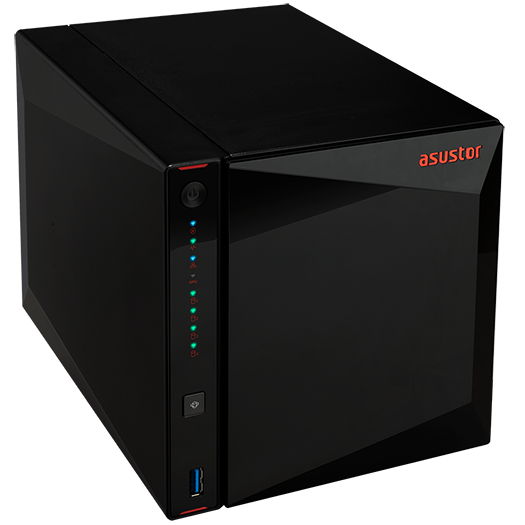 Of course, there is a gaming element to the angular black chassis with red highlights, but nothing particularly offensive. The front is lined with a series of status indicators, as well as a USB 3.0 (or whatever it's called these days - USB 3.2 Gen 1, I think) and a one-touch copy button for quickly transferring contents from an attached drive. Dimensions of 170mm (H) x 174mm (W) x 230mm (D) are relatively compact for a four-bay NAS, and rubber feet on the underside do a decent job of absorbing vibration.
Peeling away the magnetically-secured plastic front panel reveals quick access to the quartet of hot-swappable drive bays. All four are tool-free when using with traditional 3.5in hard disks (2.5in SSDs will need to be fastened), but don't quite convey the premium feel of high-end units. Each tray is of plastic construction, the four bays aren't numbered, and if you're worried about kids (or employees) accidentally ejecting a disk, do be aware that Nimbustor 4 isn't equipped with a hardware lock.
What you do get is potent underlying hardware that has the beating of most established competitors at this price point. At the helm is a quad-core Intel Celeron J4105 'Gemini Lake' processor capable of speeds of up to 2.5GHz and outfitted with onboard UHD 600 graphics. The Intel IGP offers support for 10-bit 4K hardware decoding - useful for those eyeing the NAS as a Plex media server - and Asustor has the CPU partnered to a single 4GB stick of DDR4 memory. A spare SO-DIMM slot is accessed by removing the drive trays, making it easy to double-up to 8GB if need be.
Nimbustor 4's internal components hold promise, but it is the choice of ports on the rear that has caught our attention. In addition to two USB 3.0 and a connector for the 90W external power supply, you'll find HDMI 2.0a (meaning 4K60 support on a connected display) and a pair of 2.5GbE network ports. A welcome change from the HDMI 1.4 and Gigabit Ethernet combos that have dominated the storage shelves for many years, and the AS5304T happens to support link aggregation, paving the way for a theoretical 5GbE with compatible hardware.
But isn't 2.5GbE somewhat old hat now that we're hearing so much about 10GbE? Well, there's no ignoring the fact that the faster standard would be preferable, but pricing of 10GbE gear remains prohibitive for home or small-office users, and 2.5GbE has the advantage of being a) affordable and b) compatible with existing Cat5 wiring. Sounds simple enough, but bear in mind that while 2.5GbE is backward compatible, you'll still need a multi-Gigabit switch and compatible clients to benefit from the 150 per cent speed increase.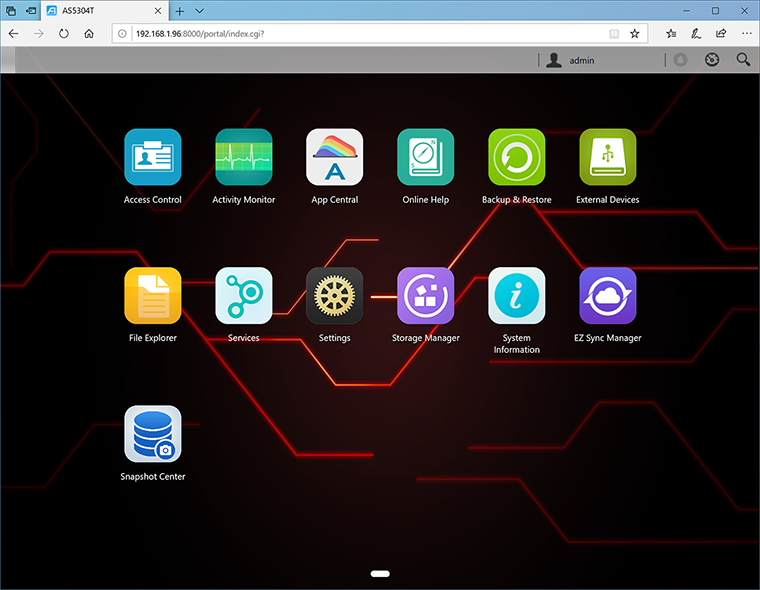 From a hardware perspective, Nimbustor 4 is one of the more interesting NAS products we've reviewed in recent years, and we're pleased to find that the accompanying ADM operating system is equally powerful. Mirroring the look and feel of competing solutions from Qnap and Synology, albeit with a gaming-inspired theme, ADM is intuitive to navigate, adept at multi-tasking, and packed full of features.
Backup options include, but aren't limited to, cloud services, FTP, RSync, Time Machine and USB, support for Btrfs enables snapshot functionality, and Asustor has a wide range of mobile apps as well as a fully-featured surveillance system. Portainer support for Docker images is another interesting addition, and perusing the official data sheet suggests that the relevant boxes for most usage scenarios have been ticked. A Live Demo is available for those wanting to try before they buy.
What's missing? Users with one eye on the future may lament the absence of a PCIe expansion slot or USB Type-C, and there aren't any dedicated M.2 bays for high-speed NVMe storage, yet Nimbustor 4 does enough to stand out from various competitors in the sub-£500 space and comes backed by a three-year warranty as standard. Our review unit is up and running at 2,500Mb/s, so let's move on to the benchmarks.