A few benchmarks
The mobile benchmarking conundrum
Benchmarking smartphones and tablets has been problematic for a while now. Coming from the PC space, which is relatively unconstrained by power, higher numbers generally tend to intimate better performance and experience. Mobile devices, on the other hand, need to balance the competing needs of performance against battery life... and that's where it becomes complicated.
The question, we suppose, is which mobile benchmarks are truly indicative and reflective of what people actually do on their devices? Benchmarks should provide credible insight into how well a device works in real-life situations, rather than spit out a synthetic number. Adding wrinkles into the mix, real-life experiences change rapidly as smartphones become more powerful year on year. The mobile benchmarks of today probably won't be a good fit for smartphones of 2017.
Competing factors
And then there's the relative complexity of understanding the relationship of power consumption emanating from the CPU, GPU, memory subsystem, and display. The nebulous nature of mobile benchmarking has lead to bold claims by practically all SoC manufacturers, who routinely cite their hardware as being better than a competing company's. Intel will say that its latest Atom is better than ARM's Cortex-A series, ARM will say exactly the opposite. Who is correct?
User-experience benchmarks are getting better over time, though, and the latest raft of benchmarks closer approximate what people are doing with their smartphones and tablets. Then there's new usage scenarios such as 4K video or super-high-resolution gaming, which makes the whole benchmarking process even more difficult.
So many benchmarks, so much possible confusion
Perhaps more than ever, we reckon that readers need to take mobile benchmarks with caution. There are benchmarks for gaming, web-browsing, video, processing, camera performance, etc., but very few tell you whether the performance is good enough. Do you really need a Snapdragon 800-series SoC, or will a mid-level Snapdragon 600 do for the kinds of apps you use? It feels like we still don't know that with clarity.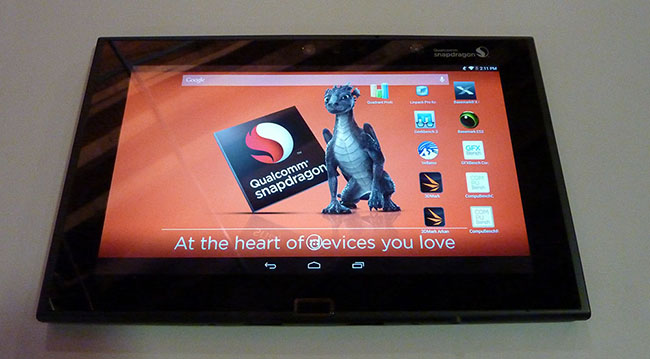 With those thoughts saliently out of the way, and please feel free to share your own, here is how Snapdragon 805 runs on some commonly-used benchmarks - in each case higher is better. The 805 was housed in a prototype tablet which ran the Krait 450 cores at a maximum 2.65GHz, Adreno 420 GPU at 600MHz and 3GB of LPDDR3 memory at 800MHz. Screen-wise the tablet used a 10in panel with a native 2,560x1,440 resolution. Android 4.4.2 was pre-installed by Qualcomm. The scores are provided in isolation, so feel free to run your Android-powered device and compare.
Single-core - 1,065
Multi-core - 2,817
Score - 19,685
Graphics - 20,226
Physics - 18,000
Offscreen - 13.44
HTML - 1,412
Metal - 1,346
Manhattan 1080p offscreen - 1,087
T-Rex 1080p offscreen - 2,330
Onscreen - 14.8
Offscreen - 20.9
Let us know if your mobile device beats the Snapdragon 805 in any test.