The improved 805
Qualcomm today provided more details on the Snapdragon 805 system-on-chip (SoC) that was formally announced in November 2013. Snapdragon 805 improves upon the commercially-available 800 and 801 parts that power the vast majority of non-Apple premium handsets and tablets such as the Samsung Galaxy S5, Amazon Kindle Fire HDX and Sony Xperia Z2, to name but a few. It is expected that Snapdragon 805 will be at the heart of the next wave of premium devices shipping in the second half of this year.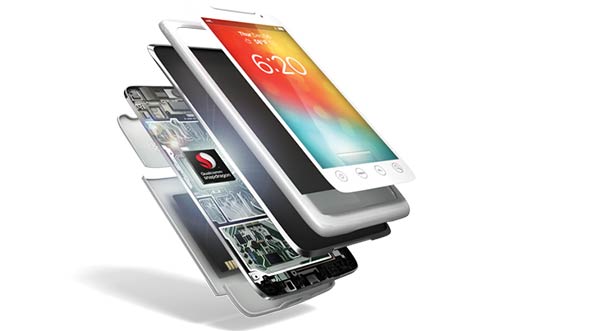 Faster CPU cores
Starting with the SoC's CPU cores, Snapdragon 805, built on a 28nm HPM process, shares the same in-house-designed Krait architecture found on 800/801-series parts. This means four 32-bit, ARMv7-compatible cores running at up to 2.7GHz. The higher peak frequencies and general behind-the-scenes efficiency improvements means the CPU portion is referred to as Krait 450, as opposed to Krait 400 for both 800/801 iterations.
As an aside, Apple has stolen the 64-bit CPU march on the mobile competition by introducing compatibility in the A7 SoC driving the iPhone 5S, iPad Air and iPad Mini. Qualcomm says it is to introduce 64-bit support in the upcoming Snapdragon 808 and 810 SoCs, both of which are to use combinations of ARM's Cortex-A57 and Cortex-A53 cores in a big.LITTLE global task scheduling (GTS) implementation.
Advance in graphics
There's faster evolution in mobile graphics, however, and Qualcomm is using Snapdragon 805 to introduce a new family of custom-designed graphics, Adreno 420, which represent a significant specification and performance improvement over the Adreno 330 graphics found in incumbent 800/801 SoCs.
For starters, Adreno 420 provides full DirectX 11.2 and OpenGL ES 3.1 compatibility, thus including the benefits of tessellation, while full-profile OpenCL 1.2 is supported, too. Jumping on the back of work done by ARM and the Khronos Group, Adreno 420 includes bandwidth-saving adaptive scalable texture compression (ASTC) technology.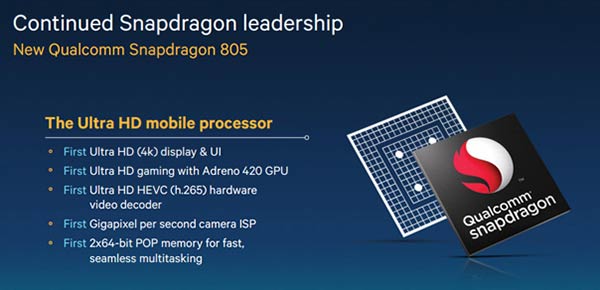 Qualcomm is bullish about Adreno 420 potential, citing generation-to-generation improvements in the order of 40 per cent while reducing power by 20 per cent when compared to Adreno 330. There's better texturing performance, larger caches and improved occlusion of unseen pixels - the usual bag of tricks wielded by GPU designers. Qualcomm says that improved software integration and SoC-level efficiencies have a bigger effect on performance than reasonable increases in raw specifications alone. We take this to mean that the quoted 40 per cent improvement is a combination of newer drivers, tighter coupling, and uprated hardware.
Adreno 420 certainly needs to be good in the face of imminent competition from an array of experienced GPU players that include Nvidia, Intel, Imagination Technologies and ARM itself. Helping GPU performance at higher resolutions common on premium handsets and tablets is a wider memory architecture using two 64-bit LPDDR3 channels. There's a potential 25.6GB/s on tap, which is nominally the same as available on the desktop Intel Z87 that most of you are familiar with. Qualcomm is using some clever POP packaging technology to house the wider memory interface without burning through additional power.
General SoC improvements
But a cutting-edge mobile SoC is more than just CPU and graphics. Snapdragon 805 includes hardware-based decode acceleration for nascent H.265 (aka HEVC) - the computationally expensive video compression standard that is set fair to drive adoption for streaming 4K content by cutting file sizes in half - though encode is limited to being run on the baked-in Hexagon DSP. Snapdragon 808 and 810, however, will include full hardware support for both decode and encode.
In concert with increased video consumption, Qualcomm, as usual, is to offer variants of the Snapdragon 805 SoC with optional silicon-integrated modems carrying either HSPA+ or, most likely, LTE connectivity from its all-new 20nm-based Gobi 9x35 Cat 6 modems, which touts peak download speeds of up to 300Mbit/s, network permitting, via a method known as carrier aggregation.
Camera time
Rounding it off, the (dual) 12-bit image signal processors (ISPs) are also beefed-up, operating at up to 1.2Gpixel/s whilst supporting sensors up to an improbable 55MP. Dual ISPs make sense because, for example, one can be tasked to record video at 4K at 30fps while the other snap 16MP pictures at 15fps burst mode without device slowdown.
Significantly faster than the speed of the ISP found in the Snapdragon 800, Qualcomm says the extra frequency helps camera throughput, or burstiness, when taking high-resolution pictures in low-light conditions or those requiring significant processing, as in the case of high-dynamic range (HDR) snaps or video. The ISP is able to process 4K video at 30fps or 1080p video at up to 120fps, as well. Interestingly, the Adreno GPU or Hexagon DSP can be used both pre- and post-processing, should the software support it.
So, with Qualcomm citing a number of significant improvements over its own 800-series SoCs powering popular smartphones and tablets, with most upticks aimed towards providing the oomph for 4K and what we'd loosely term high-resolution usage, the Snapdragon 805 is a stop-gap between 800/801 and the next major overhaul coming with the 64-bit-compatible 808 and 810 SoCs next year.
But it's only fair to put Snapdragon 805 to the test, though, considering just how many devices it is likely to go into later this year. We were invited to do so during a benchmarking workshop held earlier today.