Four themed courses, extra challanges and multiplayer
At its most basic level, Worms Crazy Golf HD is purely about navigating a golf course and choosing the right clubs, power and angle to sink the ball in the hole in the least number of shots. Manage to do this on par and you unlock the next challenge. At the end of each level your score is uploaded to an online leaderboard where you can see how you fair against the global Worms community.

If you do hope to rise up that ladder though, there's a lot more you need to do than just sink each putt. On each course there are coins that can be collected by hitting your ball along the right path, which in turn gives you the cash to buy better clubs, to improve your performance. In addition, there are other Worms dotted around each course which you can try and hit with your ball, racking up more points and causing them to commit suicide with the infamous plunge of the detonator.

The challenge doesn't stop there, either. Collectible crates give you additional points and you need to work your way around a variety of obstacles, from magnets that send your ball the wrong way (unless you can manage to flick a switch with a pin-point shot) to grannies that smash the ball out of the way with their umbrellas if it lands too close. To keep things well-balanced, there are also items that help you out, including exploding cannons that launch your ball across the course and transporters that allow you to take sneaky shortcuts.

Courses are fairly small, so you can jump into a level with the knowledge that it's not going to take a huge amount of time to complete. This pick-up-and-play appeal makes it ideal for iPad gaming. The control scheme works well too, and aside from powering up the ball and making sure you have the right angle, you can also use two fingers to walk around the course and spin the ball when it hits the ground by circling your finger on-screen.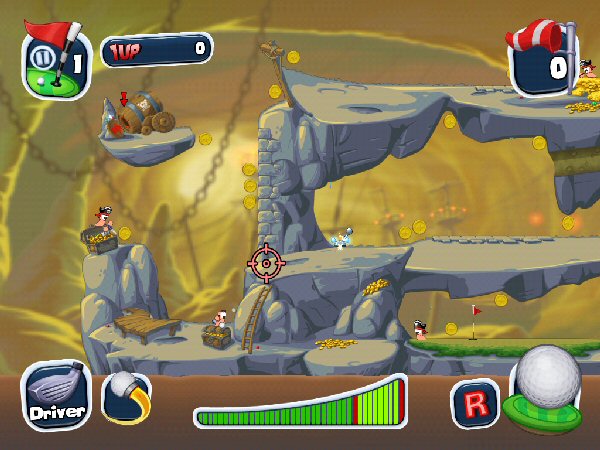 Four courses - Britannia, Pirate Cavern, Graveyard and Carnival



With 72 holes and four differently-themed courses available on the iPad version, there's plenty of replay value as you try and rack up a high score, and a series of challenges to get your teeth stuck into beyond career mode. You can also play multiplayer on the same iPad and try to mess up the courses for your opponent by flicking magnet switches and watching them struggle. It's not as competitive as trying to kill each other, but it's good fun nonetheless.

The only real issue we have with Worms Crazy Golf HD is that you have to unlock all the holes and courses in order. Career mode is well-paced to give you an increasingly difficult challenge as you progress, but you can get stuck on certain holes for long periods of time, and with no option to skip them and move on, it can get a little frustrating.

Nonetheless, Team 17 has done a great job at turning its engaging turn-based strategy franchise into one of iPad's most addictive new puzzle games. There's a lot of competition in this field. clearly, but Worms stands its ground very well by blending some familiar mechanics from past games with a brand new concept. At £2.99, Worms Crazy Golf HD is an absolute steal and come year-end we'd be surprised if it isn't talked about as being one the most addictive puzzle-action games on iPad in 2011.



The Good

Fuses addictive Worms mechanics with clever puzzles
Superb level design makes gameplay challenging
Tons of replay value with collectibles, challenges and online leaderboard



The Bad

You have to unlock all holes in a strict order, so can get stuck on a level for quite a while

HEXUS Rating

Worms Crazy Golf HD
HEXUS Awards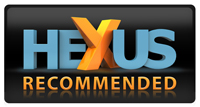 Worms Crazy Golf HD
HEXUS Where2Buy
Worms Crazy Golf is available to buy from the iTunes store.
HEXUS Right2Reply
At HEXUS, we invite the companies whose products we test to comment on our articles. If any company representatives for the products reviewed choose to respond, we'll publish their commentary here verbatim.