HTC has started to offer a new accessory for its Vive VR headset in China. The TPCAST ​​VIVE wireless upgrade kit allows you to enjoy your Vive HMD experiences untethered, wire-free promising a cable-less "fully immersive virtual reality experience".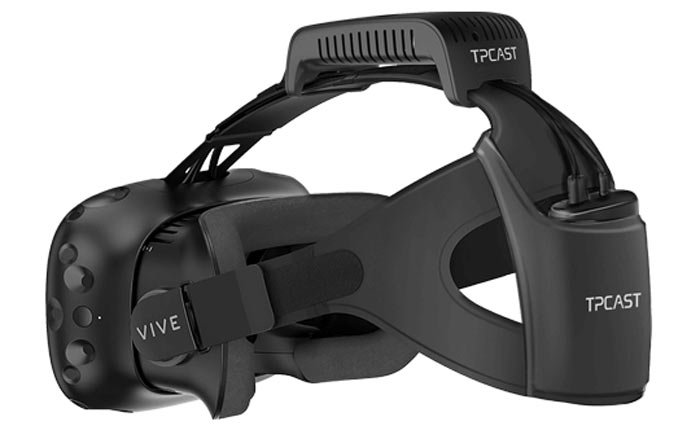 The new TPCAST accessory was shown off at the Alibaba's 11/11 global shopping festival in Shenzhen, China, reports UploadVR, which published the video you can see below.
In an interview, an HTC exec said that this wireless upgrade accessory would "greatly improve" the Vive experience. Despite its wireless nature there will be no "noticeable difference" in critical perfromance factors like latency, he promised.
As it ships, the TPCAST wireless upgrade kit can provide approximately 1.5 hours of untethered VR shenanigans. There are plans for a bigger battery pack to be introduced which would go in a user's jacket pocket.
The TPCAST wireless upgrade kit includes:
Computer transmitting terminal
Receiver
Power Box
Dedicated data line, HDMI high-definition cable, power supply box carrying accessories, manual, warranty card, etc.
The receiver component which sits atop of your headset crown
Pre-orders will open later today in China though the product page lists the TPCAST accessory as already being "sold out". The HTC exec told UploadVR that people from anywhere in the world could order one via its Chinese web store – they will just have to cough up more for shipping and possible import taxes. The product list price is CNY 1499, which is roughly US$220 or £175.
Do readers think that this kind of accessory will kill the market for PCs such as the newly launched MSI VR One?