Many commercial arcade machines - even recent ones - have graphics that, at best, look like those on previous-generation Microsoft Xbox and Sony PlayStation 2 home games-consoles.

But with the release in late 2005 of Sega's PC-based Lindbergh system, things started to look up.

Since that time, Lindbergh has ruled the roost but now TAITO - one of the three remaining original big-names - has released a potential Lindbergh-slayer, the Type X2.

The machine is made by DFI ACP, the industrial computing division of DFI, and drew the crowds at COMPUTEX.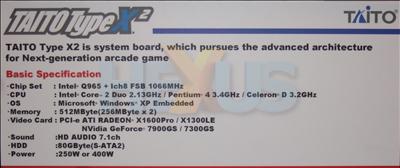 With specs comparable to a modern low-to-mid-range PC, don't expect Type X2 to look better than your Xbox 360 or PS3. But, as you can see, the capability is definitely there to outperform Sega's Lindbergh platform - currently limited to an Intel Pentium 4 3GHz (Prescott core) CPU, an 800MHz FSB, 1GB of PC3200 RAM and NVIDIA GeForce 6800 AGP graphics.