Aren't all keyboards mechanical?
Right, I'm obviously utterly missing as I'm not at all understanding how a keyboard, other than touchscreen one, can be anything other then mechanical… and leastways not one based on Cherry MX technology…

But that's what GIGABYTE is claiming with the GK-K8000, which they say is, and I quote, the "Worldwide 1st Mechanical Gaming Keyboard". Ok, let's set aside my confusion for a sec and have a look at what the keyboard offers, which is actually quite impressive.

On the IO front, it's a USB device that offers up a USB 2.0 port and audio in/out. Thankfully, for a gaming keyboard, it's a full size jobbie with none of that silly bunching of arrow and end/home key groups into the number pad. Above the number pad is a set of simple media buttons for volume and mute control, as well as handy Windows key lock button, that works the same as a number lock button, except it's for the Windows key.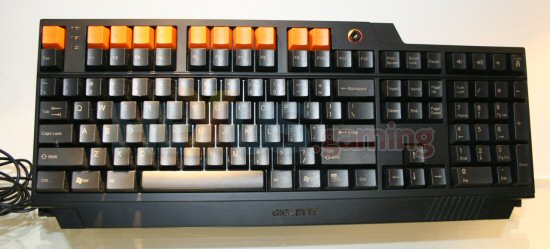 Click for larger image



The keys themselves are based on the Cherry MX series keyswitch, which is supposedly good for up to 60 million keypresses. I dunno if anyone's ever tested that far but I will say that my own Cherry keyboard is still serving me perfectly 4 years after I got it.

An unexpected addition is the GK-K8000's USB Digital Audio, provided by a Vista certified C-Media 6300 chip. This has 2 channel support with DRC to give you less distortion across the range when things get loud as it keeps a reserve of power enabling it to go to eleven when the need arises.

But the real story on the GK-K8000 is that row of orange buttons running across the top of the board… that's the profile switching goodness powered by the built in GHOST engine. This bit of chippery lets the user store and use up to 13 profiles in the GK-K8000 itself, without having to install any software on the PC they're using.

You can then switch between these profiles on the fly, letting you save a whole new set of commands to each key to suit your gaming needs. So you can load up a bunch of more intuitive plane controls for when you spawn camp the jets in Battlefield 2, or just bind your latest after-round smack talk to a single key for CS… and all without having to install the software.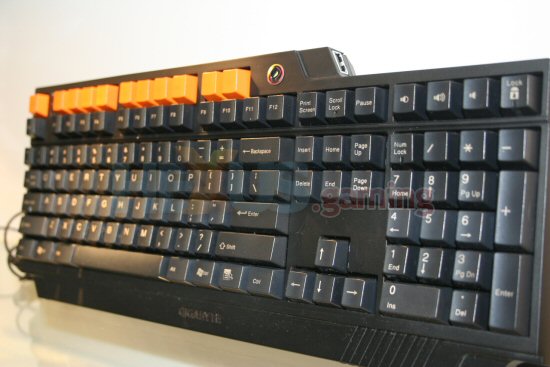 Click for larger image



The fun goes on though, because you will have to install the software on a PC at some point to set up the profiles in the first place… but I don't think you'll ever run out of them seeing as further 100 profiles are available through the software, which you can pre-load and assign to a profile button before unplugging the GK-K8000 and heading of to the LAN RPC section.

Sadly, no news on when this'll hit UK shores or how much it'll be, so you'll have to pop back and find out later.