The release last week of Deus Ex: The Fall for iOS was greeted warmly by many gamers and has garnered pretty good reviews. Both reviews I read both said they were surprised by the depth of the game on offer and how well it had translated to the mobile touch-screen interface. The game is doing pretty well in the iOS 'paid' charts, currently at position 18 in the list, it retails at £4.99.
Guns jammed
Just before the weekend the story broke that Deus Ex: The Fall for iOS had a 'feature' built-in that would disable the firing of any guns if it was detected that the player was using a jailbroken device.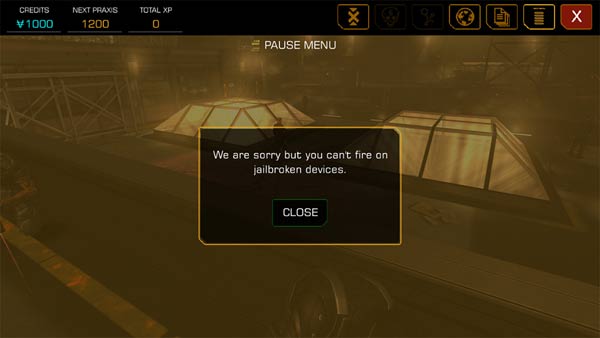 As a player on a jailbroken iOS device pulls the trigger to fire a message pops up saying "We are sorry but you can't fire on jailbroken devices". There was no warning of such a restriction on the App Store page for Deus Ex: The Fall . However after the news broke the developers updated the game information page to say that the "play experience is currently restricted on jailbroken devices." Also iOS gamers "should not purchase if you have voided your warranty and have jailbroken your device".
Change of heart
Square Enix has now officially given notice of its intentions of removing the jailbroken restrictions "in the near future". Also it apologised for implementing it in the first place and causing "inconvenience" to many purchasers of Deus Ex: The Fall.
The full statement from Square, as sent to EuroGamer was as follows:
"We have not been clear in our communication earlier this week when we launched Deus Ex: The Fall. We did not state clearly that the game would not support jailbroken devices and so we will be switching this off via an update, so that all the supported iOS devices will be able to play the game in the near future."

"We feel it's the right thing to do in this situation and apologise for any inconvenience this may have caused. No customer should be out of pocket when we were not clear from the start, so we'll get the game updated as soon as possible so that everyone who wants to play Deus Ex: The Fall can do regardless of whether their device is jailbroken or not. As soon as this update is live we will communicate this via the Eidos Montreal Community channels."
The statement above doesn't give us a hint about why the restriction was implemented in the first place but various sites suggest jailbroken iOS devices may have been associated with piracy or to reduce potential support issues with the game.