Acer has divulged the particulars of its new smartphone - Stream - appealing to entertainment aficionados.
Adorned with an AMOLED-technology powered 3.7in touch screen, the Stream's WVGA display is said to visually thrill with 1.67 million colours and a 2,000:1 contrast ratio - claimed to deliver crisp and clear imagery - whilst, preserving battery life.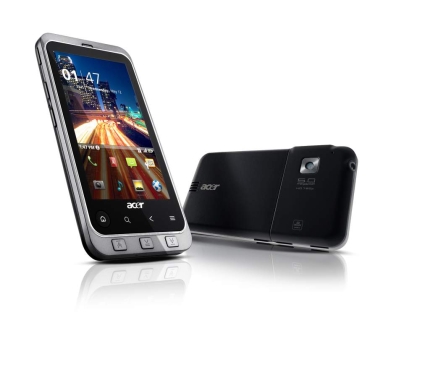 Pieced together from 'highly resistant' materials, the Stream weighs a sprightly 126g and has an 11.2mm profile, without sacrificing on functionality. With an ever popular Qualcomm Snapdragon 1GHz processor under the hood - spiced up with 512MB RAM - Android 2.1, with assistance from Acer's UI 4.0, takes control of the operating system and user-interface side of the equation.
From the multimedia angle that Acer is so keen to emphasise, we are told that the Stream is infused with the ability to record HD video up-to 720p. More so, if listening to the latest tunes or indulging in some radio-loving is up your street, Dolby Mobile is believed to deliver 'unparalleled purity of sound'.
Camera wise, the Stream is kitted-out with a 5MP flavour that is fused with an integrated GPS system, to enable geotagging. 2GB of internal NAND Flash memory is joined together with expansion potential, courtesy of up-to 32GB of micro-SDHC card support, to take care of storage capacity requirements.
Out of the box, Acer ensures that a myriad of pre-installed applications grace the Stream and social networking support - for Facebook and Twidroid - is also part of the deal.
Connectivity comes courtesy of 3G+, Bluetooth and Wireless N support, whilst the Stream also empowers users to harness the magic of HDMI, to watch movies on a larger screen.
Priced at £399 including VAT, Acer's Stream will be exclusively available from online-retailer, Expansys, from August 9th.