EE claims it will be the first network in the UK to launch 5G services. The UK's biggest mobile operator, part of BT, says it will open up its 5G network in six cities starting on 30th May. 5G handsets compatible with the service will be on sale today at EE, as will new plans and contracts. From the official press release I have seen, EE sounds like it plans for a rapid rollout though 2019 and 2020.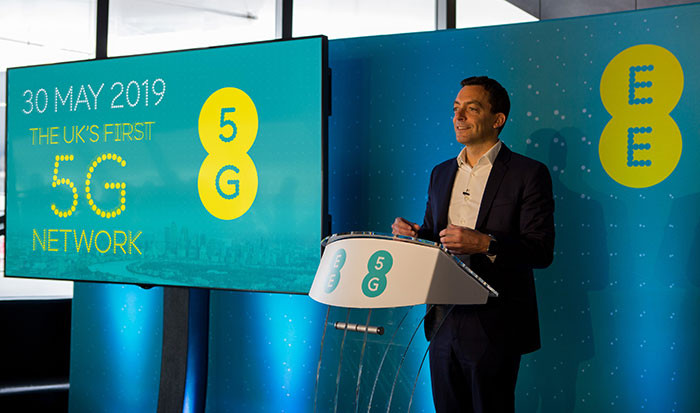 Initially, at launch date, EE 5G will be available in six cities; London, Cardiff, Edinburgh, Belfast, Birmingham and Manchester. The firm aims to expand coverage with more than 100 new 5G sites per month being added, providing 5G in; Bristol, Coventry, Leicester, Nottingham, Sheffield, Liverpool, Hull, Leeds, Newcastle and Glasgow. Going through 2020, EE 5G connectivity will arrive in Aberdeen, Cambridge, Derby, Gloucester, Peterborough, Plymouth, Portsmouth, Southampton, Worcester, Wolverhampton and more.
1Gbps+ data connectivity
Compared with 4G, which launched back in 2012, EE's new 5G network is claimed to offer increased speeds, reliability and connectivity. At launch 4G offered data downloads at up to 50Mbps, while the new 5G service will provide an "increase in speeds of around 100-150Mbps even in the busiest areas," with some able to achieve >1Gbps on their 5G smartphones depending on locality.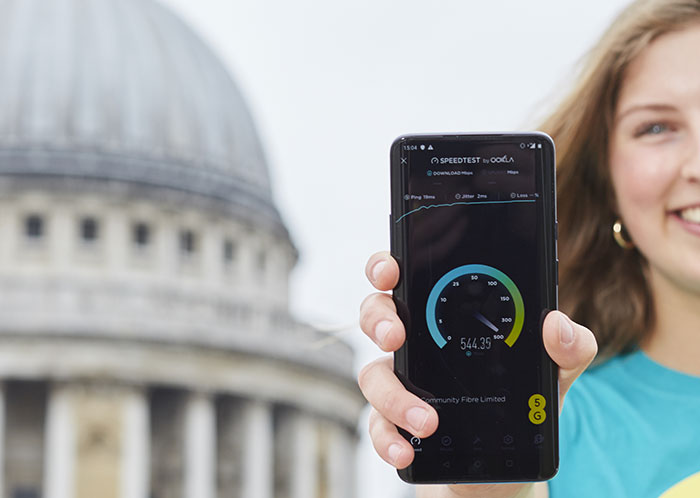 EE said that Phase 1 of its rollout will be a non-standalone service where consumers use combined 4G and 5G connectivity as they travel around. From 2022 Phase 2 will see increased availability of 5G-ready spectrum, many more locations covered, and enhanced devices push 5G adoption and capabilities further. By 2023 Phase 3 will be initiated introducing Ultra-Reliable Low Latency Communications (URLLC), Network Slicing and multi-gigabit-per-second speeds.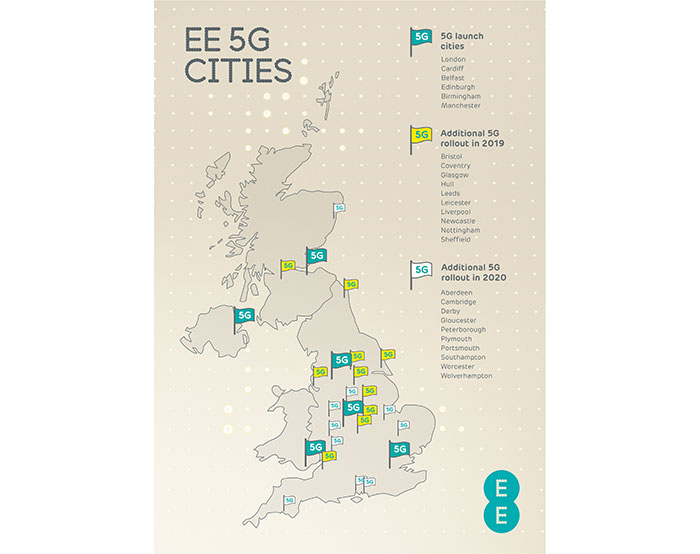 Handsets and contracts
Coinciding with the above announcement, EE has announced its first 5G contracts and phones. If you head on over to the EE store you will see that there are currently four devices which you can pre-order on 5G contracts. Phones you can choose from include the newly UK launched Samsung Galaxy S10 5G, the LG V50 ThinQ 5G, the OnePlus 7 Pro 5G, and the Oppo Reno 5G (with the cheapest offer being the Oppo with £70 upfront cost, 10GB allowance, one swappable benefit (such as a video data pass) and a cost of £54pcm over 24 months). 5G SIM-only plans will be available from 20GB per month (£32 per month) and rising to 100GB (£52 per month). For comparison, if you look at current SIM-only EE 4G plans you can get a 20GB allowance SIM for £22pcm, saving £10 off the 5G price.
Some extras that EE hopes will help you decide on its 5G network include BT Sport HD HDR, or swappable benefits for music, video or an exclusive Gamer's Data Pass (from August) with zero-rated data. It has partnered with Google and Niantic for games streaming tech. EE says that it will be introducing 5GEE Wi-Fi and 5GEE home broadband soon but pricing and availability will follow.
Last week we saw Vodafone announce its 5G network will launch on 3rd July in seven cities. We are still awaiting statements from rivals O2 and Three UK.