Intel has announced its XMM 8160 5G multimode modem. It proudly states that it has been able to launch of this modem more than six months early. However, it won't be available until 2H19, and then device makers won't be rolling out phones, PCs and broadband access gateways packing this chip until 1H20.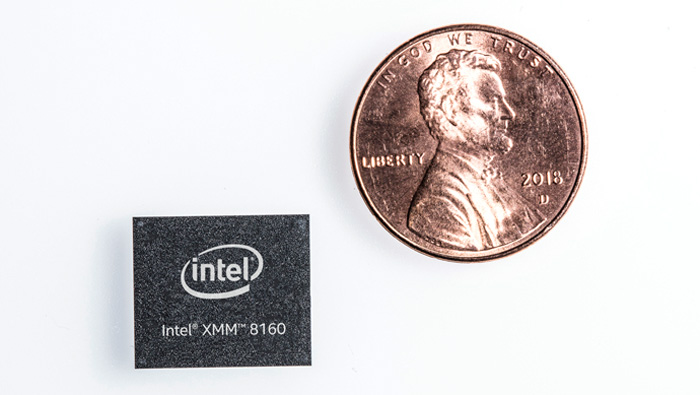 The Intel XMM 8160 5G will support peak transfer speeds up to 6Gbps, which Intel says is "three to six times faster than the latest LTE modems available today". It is a multimode modem, and it will support the following communication standards in a single chipset:
5G New Radio (NR), with
5G standalone (SA) and
5G non-standalone (NSA) modes, plus
4G, and
3G and 2G legacy radios
This single chip solution is attractive to device makers who can pack in a broad range of connectivity fall-back options for when 5G, or even 4G isn't available. Meanwhile the chip is said to be small and power efficient, especially compared to competitor offerings with separate 5G and legacy connectivity.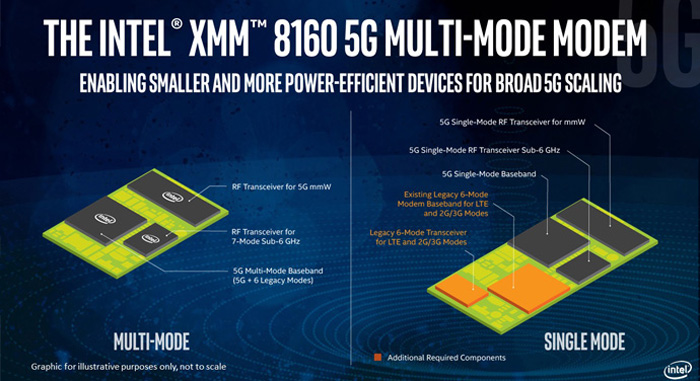 Intel provides some technical details of the XMM 8160 5G. It says it offers simultaneous connectivity (EN-DC) for LTE and 5G. The modem's technology can support new millimetre wave (mmWave) spectrum as well as sub 6GHz 5G NR support (including FDD and TDD bands from 600MHz to 6GHz) and download speeds up to 6Gbps. Intel reminds us that the move to mmWave and mid-band spectrum "addresses the enormous need for more bandwidth for users, devices and connected machines". In the UK we might see some mobile network companies market fibre broadband alternatives.
As mentioned in the intro, the first devices packing the Intel XMM 8160 5G are expected to become available in 1H20. Rival Qualcomm will have its X50 5G modem in smartphones during 1H19 – it offers peak 5Gbps download speeds and pairs with Snapdragon mobile processors (which provide legacy connectivity fallback).