Apple has announced that orders for its new iPhone 5 "topped two million in just 24 hours". For comparison sake that is "more than double the previous record of one million held by iPhone 4S". Because of demand outstripping supply many folk will get their pre-ordered iPhone 5 during October. However Apple assures us that the "majority of pre-orders will be delivered to customers on September 21".
The highly anticipated iPhone 5 smartphone was unveiled a week ago and will be available in limited quantities on launch day; Friday 21st September. Long suffering Apple Store queue refugees will be offered a "free Personal Setup service, helping them customize their iPhone 5 by setting up email, showing them new apps from the App Store and more, so they'll be up and running with their new iPhone before they leave the store". A toilet, shower and a hot cup of Bovril would probably be better, following their ordeal. People have been queuing in Regent Street four days already...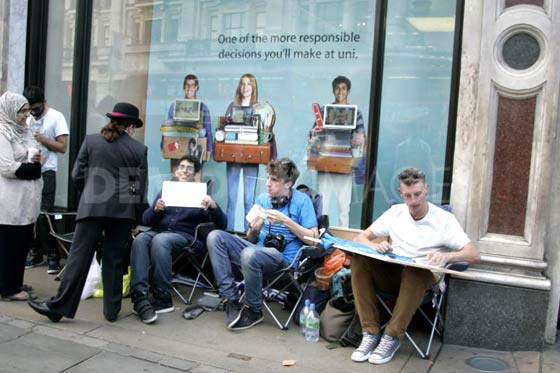 Camping in Regent Street
News of the success has pushed Apple's share price to a new high, the company shares are now trading at almost $700. Analysts expect Apple to sell up to 10 million of the new smartphones by the end of September and that total could reach 60 million before the end of 2012.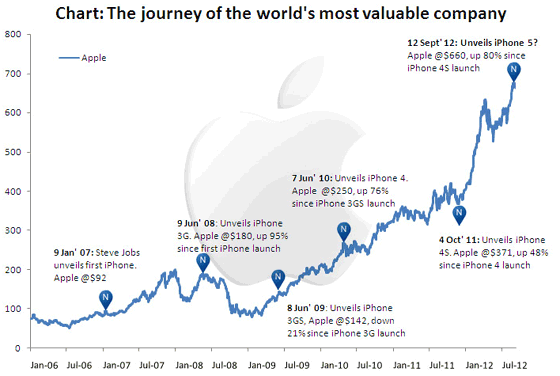 Share price graph from MoneyControl.com
Apple's senior vice president of Worldwide Marketing, Phil Schiller said "iPhone 5 pre-orders have shattered the previous record held by iPhone 4S and the customer response to iPhone 5 has been phenomenal." He followed that statement by gushing "iPhone 5 is the best iPhone yet, the most beautiful product we've ever made, and we hope customers love it as much as we do".
This launch success is expected, as many iPhone users will upgrade ASAP as a matter of course. However in the longer term, in the face of the muted "more of the same, incremental upgrade" murmurings from the media, will the sales graph fulfil its extrapolated potential?