QNAP has today made the functionality of its TS-439 Pro Turbo NAS available to enterprise users in the form of its TS-439U, a 1U rackmount model of the existing Intel Atom-based solution.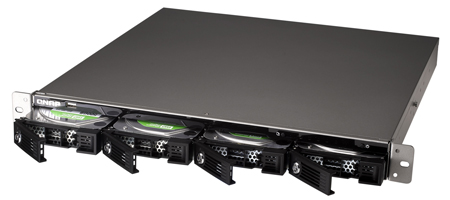 The TS-439U, like the TS-439 Pro, features a 1.6GHz Intel ATOM CPU and 1GB of DDR2 memory. QNAP has equipped the unit with four drive bays that support either 2.5in or 3.5in drives, allowing for a total capacity of up to 8TB.
We've yet to hear any mention of pricing, but QNAP tells us the TS-439U will be available this month in two unique models - the TS-439U-RP and the TS-439U-SP. The only difference, as far as we can tell, is that the RP model features a redundant power supply whilst the SP model includes only a single power supply.
Both models support RAID 0, 1, 5, 6, 5+ spare and JBOD configurations, along with online RAID expansion and RAID level migration. Both units can act as an iSCSI target server or an iSCSI initiator, and dual Gigabit Ethernet ports allow for failover support, load balancing, and the ability to deploy two unique IPs.
To see what else this box of tricks can do, check out QNAP's official product page.