HP Elite X3 makes a case for Windows phones in the workplace
Loading...
Been waiting a while?
Get Flash
to see this player.
Meet the enterprise device that wants to be your smartphone, laptop and desktop.
To say that Windows phones have struggled to find their feet would be an understatement, but HP reckons there's life in the platform yet. At MWC 2016 the firm has introduced the Elite X3, a Windows 10 Mobile smartphone that promises to usher in "a revolution in mobility."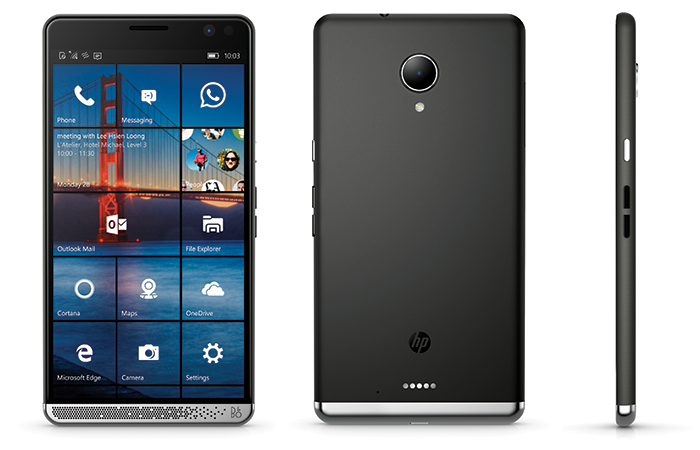 Similar in appearance to most high-end smartphones, the Elite X3 touts a 6in AMOLED display with a 2,560x1,440 resolution, a quad-core Qualcomm Snapdragon 820 processor, 4GB of RAM, 64GB of storage (expandable via microSD) and a 4,150mAh battery compatible with either QI or PMA wireless charging.
There's also IP67 water resistance, a Gorilla Glass screen coating, Bang & Olufsen audio, iris recognition, a rear-mounted fingerprint reader, USB Type-C, as well as front (8MP) and rear (16MP) cameras.
Impressive hardware for a Windows 10 Mobile, but what makes the Elite X3 intriguing is that it isn't designed as just a smartphone, but rather a one-stop-shop for productivity via Continuum, a Windows 10 feature that lets the phone function as a make-shift PC when plugged into a larger display.
With such usage scenarios in mind, HP will be expanding the Elite X3 ecosystem with a Desk Dock that can be used to attach a DisplayPort monitor as well as peripherals via two USB ports and one USB Type-C. Taking it a step further, HP's Mobile Extender will arrive on the market as a 'dumb' laptop that will wirelessly connect to the Elite X3 for on-the-go productivity.
It's an interesting concept, and though we suspect most users would currently prefer to carry a separate smartphone and laptop, there's merit in Windows 10 Continium as a corporate solution. Want to know more? Check out the video overview from Keith Hartsfield, HP's Vice President of Mobility Solutions, at the top of the page.