Does Your's Glow?
A few weeks ago Shuttle released another new accessory for there barebone systems. There seems to be a never ending list of add-ons and accessory's for these SFF PC's. Included in the range are carry cases, card readers, coloured front panels, blue tooth modules and a few other items.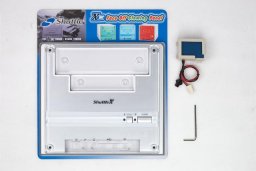 The front panel that I am reviewing is called a "Face Off Glowing Panel" (PF11B). The glowing front panel is designed only for use with the Shuttle G series XPC. (SK41G, SS51G, SB51G, SS40G). Also the panel is available in 2 colours, Blue and Green.

Contents
Inverter And EL sheet
Clear Front Panel (inc drive bays)
Allen Key
Installation Guide

Installation
Installing the front panel is very easy. Included in the kit are the tools required to remove the existing face plate and install the new one. The back of the packaging displays the installation guide showing exactly how to install the face plate onto your Shuttle XPC.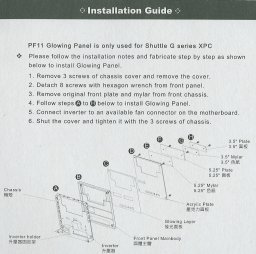 It is extremely simple to replace the front face plate on your Shuttle PC. There are a total of 8 screws holding the face plate to the chassis. One tip is to be careful when removing the screws as it is very easy to damage the hexagonal screws and spoil the finish.
Once these screws are removed it is possible to remove the original face plate from the front of the chassis and continue installing the new glowing face plate. On the front of the chassis are small holes, these are to hold the inverter in place and pass through the cables from the precut electroluminescent film.
The inverter is neatly clipped inside above the front audio ports. It is powered via a 3 pin fan header from your motherboard. Unfortunately there is no switch included to turn the glowing front panel on or off. Although I see no reasons why a switch couldn't be installed and possibly powered via a molex connection from the PSU.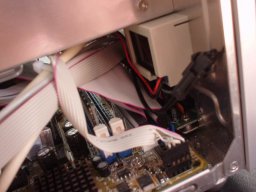 Once installed you are ready to power up your system. Here are a couple of shots I took at different times of the day to see a comparison in different lighting. The first picture was taken midday and the other picture was taken late at night. As you can see there is a big difference between the two. The glowing front face plate isn't really that effective during the day although at night the panel certainly looks impressive. (Note: The glowing effect from the side vents of my Shuttle XPC is from a mini cold cathode).
Pro's
Tools included
Looks unique and impressive
Con's
Slightly expensive
Drive bays don't glow
Could be brighter
No additional screws
No switch
---