Shuttle Space Walker SV24
Shuttle Space Walker SV24
The Recent increase of people interested into turning there living room into a Home Theatre has caused many people to go out and buy an additional PC to run along side there large TV. Now, your probably thinking why dont they just buy a standalone DVD player. Well the reason behind it all is standalone DVD players dont play DivX films. A DivX film is basically a DVD on a standard CD which hs been compressed. So Shuttle have came up with the wonderful Shuttle SpaceWalker SV24.


What is a Shuttle SV24?
The SV24 is a barebone system from Shuttle. Which includes a mATX form motherboard, a 145watt PSU and loads of other goodies.
Specifications
Dimensions : 190x260x160mm (w x d x h)

CPU Support : Intel Pentium III / Celeron (up to 1000mhz) or Via C3

Memory Support : 2 DIMM Slots, up to 1Gb RAM

Drive Bays : 1x3.5" External, 1x3.5" Hidden , 1 x 5"1/4 External

Graphics : s3 Savage Pro

Ports : 2 x Firewire, 4 x USB, S-VHS/Composite Out, 1 x COM Port

Network : Realtek 10/100 LAN On board

Audio : AC'97 OnBoard

1 PCI Slot for expansion

Low profile CPU Cooler

145 watt mATX PSU

Green and Yellow Power/HDD Activity LED's

Thumbscrews

60mm Rear Exhaust Fan
First Impressions
As soon as you take the case out the box your think "wow its smaller than i imagined". Then you start to remove the case and think "how is a HD, CD-Rom and a FDD gonna fit inside this".

In Depth

But once you start to put the actual hardware inside the case, it goes together quite neatly once you have found a nice path for the ribbon cables to take. One of the first things i done with this system was to spiral wrap all the power cables. I my opinion its easier to work with a system if the cables are neat and with this system, the cables must be neat as there isnt much spare room.
At the rear of the case where the connections are is also very tidy and presentable. Shuttle supply a small hard plastic sticker sheet which is place over the connections indicating which connector is for what. What i like about this barebone system is the amount of gadgets it has for the size. This system has 2 firewire ports and 4 USB ports. I bet most PC owners dont have firewire ports on there motherboard.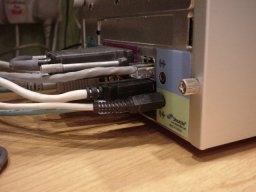 The hidden 3½ inch bay is shown on these pictures below. When i built this system i mounted my IBM 60GB 60gxp in this bay. The HD is mounted on a caddy system which is held in by thumbscrews. The caddy is on rails inside the case and suspended a few mm away from the CPU heatsink and fan.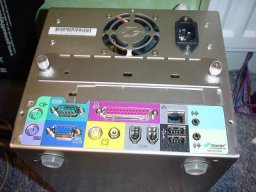 Shuttle supply the CPU cooler with the barebone system. The heatsink is about half the size of a standard Intel stock heatsink. Although the cooler is very small it seems to cool my Pentium III 1GHz no problems at a temperature of around 35º.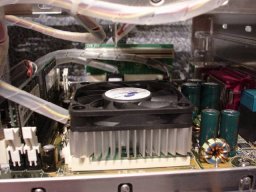 When installing the DVD drive I had a little trouble. as the connector for the power supply and the back of the DVD drive are very close. What i eventually done was used the knife and trimed a little bit of the heatshrink off connecter for the PSU which allowed the DVD drive to slide into the case that extra few millimetres so it was flush with the front of the case.
Pro's
The Size

Aluminum

Removable HD tray at rear

Thumbscrews

Very light

2 Firewire ports

2 USB ports on the front and 2 on the rear

Line-in and Line out ports on the front

Price

Portability

10/100 LAN onboard


S-Video out

Con's
Ribbon cables

No AGP slot

Slightly Noisy Fans

Green/Yellow LED's

Cooling
Conclusion
The Ideal PC for Home Theatre or LAN parties. I'd have to say, this is the best piece of hardware I've bought for a long time. I've never liked integrated hardware on motherboards, but when you look at what is built onto this motherboard and you see how it performs i was amazed.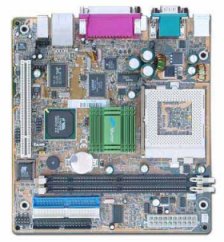 Now hopefully all what remains is to mod the case :) (unfortunetly 30cm cold cathodes are physically to large to fit inside. so 9cm mini cold cathodes it has to be)