Software and Summary
BlackWidow X Chroma will function just fine as a plug-and-play solution, but to take full advantage of the available feature set you'll need to install the free-to-download Synapse software utility. Familiar to anyone who has used Razer peripherals in recent years, Synapse is split into four main sections - keyboard, macros, chroma apps and stats.
The keyboard tab is where you're likely to spend most of your time and is used to create profiles, control lighting and toggle gaming mode on or off. The latter lets you disable your choice of three Windows shortcuts - Alt+F4, Alt+Tab and the Windows key - to help prevent any interruptions to your game.
Razer's layout is for the most part intuitive, however I do have a preference for peripherals that don't require extra software, and Synapse can be considered more irksome than others in that the user must register for an account in order to function. I don't particularly want to sign up just to be able to control my keyboard's lights, but on the plus side, Razer does save profiles and settings to the cloud, tying them to your account and making them available when you login on another PC.
A macro record function is present and easy to use, with a good choice of delay options, and as always Razer includes a built-in stats engine to keep track on keystrokes and other quirky usage data. Presentation is decent throughout, yet while others in the office tend to like the look of the dark-themed software, I'd personally prefer a light mode to help improve visibility of certain options.
When using most peripheral software utilities there's no need to venture back in once your profiles and settings are configured accordingly. With Razer's Synapse, you're far more likely to come back just to have a play with the lights in the pop-up Chroma Configurator window.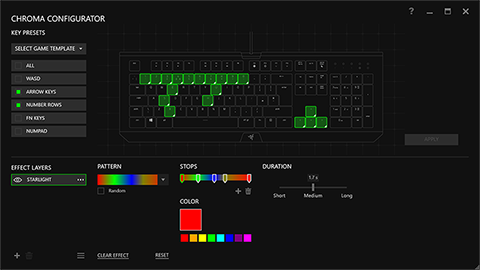 Lighting options are seemingly endless, with a good choice of effects to browse through and an entire spectrum of colours that includes a fairly accurate white. Others have struggled to make lighting effects easily accessible to the user, but this is an area in which the Synapse software succeeds as it doesn't take a great amount of time or effort to have the keyboard looking fantastic.
Razer's integrated LED bulbs are positioned just above each individual key switch, yet the illumination is well spread and on keys with two rows of text, the lower row is opaque to prevent them from appearing half-lit. The only oversight in terms of visibility is the labels associated to the five status LEDs in the keyboard's top-right corner - they're printed using black text on black metal and are inevitably hard to make out.
Summary
...a high-end keyboard worthy of a place at any gamer's table, yet there's a rather large stumbling block in the form of the £140 entry fee.

The Razer BlackWidow X Chroma is one of the latest entrants into the burgeoning market of mechanical gaming keyboards. Stripping away some of the original BlackWidow's bulk, the X Chroma has been streamlined to give it an industrial look that's befitting the unit's robust build quality.

Stylish appearance is aided by a per-key LED illumination that's fully customisable and, if lighting is your thing, there are enough effects to keep you entertained for at least a good while. Razer's Green key switches, another plus point, are barely distinguishable from Cherry MX Blue while promising greater durability, and though they're noisy in use, they deliver a key stroke that's favoured by many a gamer.

The tidy hardware and polished software should combine to make this a high-end keyboard worthy of a place at any gamer's table, yet there's a rather large stumbling block in the form of the £140 entry fee. Given that the BlackWidow Chroma, with dedicated macro keys and USB passthrough, is available for similar money, you need to absolutely love the way the X Chroma looks for it to warrant any serious consideration.

The Good

The Bad

Sleek, stylish appearance
Dazzling LED lighting effects
Robust build quality

Pricey at £140
No audio/USB passthrough




HEXUS.where2buy*

The Razer BlackWidow X Chroma keyboard is available to purchase from Scan Computers.

HEXUS.right2reply

At HEXUS, we invite the companies whose products we test to comment on our articles. If any company representatives for the products reviewed choose to respond, we'll publish their commentary here verbatim.